Fishing offshore has been awesome when the weather cooperates. We are finally dialing in finding snapper. So much so that we decided to take someone else out with us for the first time.
Kyle was one of the cameramen/producers we met at Mason Mountian WMA for the TPWD TV segment we appeared in along with Abe. Since then we have become friends and he has been out with us many times, both flounder gigging and hog hunting. This would be the first time he came out in the boat.

Taking no chances we made sure of a good weather window. The forecast called for nice seas, we had plenty of bait and we felt like we could actually get him his first red snapper.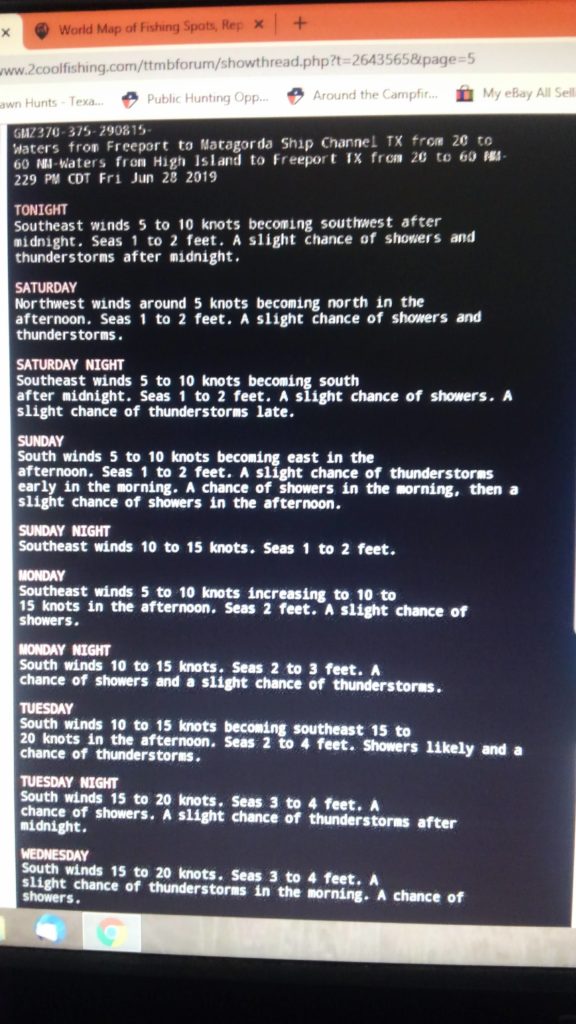 This was the forecast for Saturday June 29. Seas 1-2 feet. Slight chance of Thunderstorms. Any storms that did beat the odds and pop up were expected to build right on the coast and move inland. Awesome!
So calls were made and plans were planned. Kyle came down Friday night and we headed out early Saturday to see what we could find.

The ride out to the snapper grounds was a bit choppy, certainly not the 1-2 foot seas forecast, but still manageable. We expected the waves to calm once the sun got higher and we got further out.

On the way we kept a sharp eye out for floating debris. Interesting things could often be found around floating objects. Alas, none were found.
When we got to the snapper grounds there were already several boats there. I think I counted over twenty. The calm weather really had everyone excited. We even saw a bass boat. Over 30 miles offshore!

It didn't take too long before our rods bent and it was down to business. Kyle lost a few fish at first but soon had his hands full. His very first red snapper was over the rail within 10 minutes of arrival. It wasn't a monster so back it went.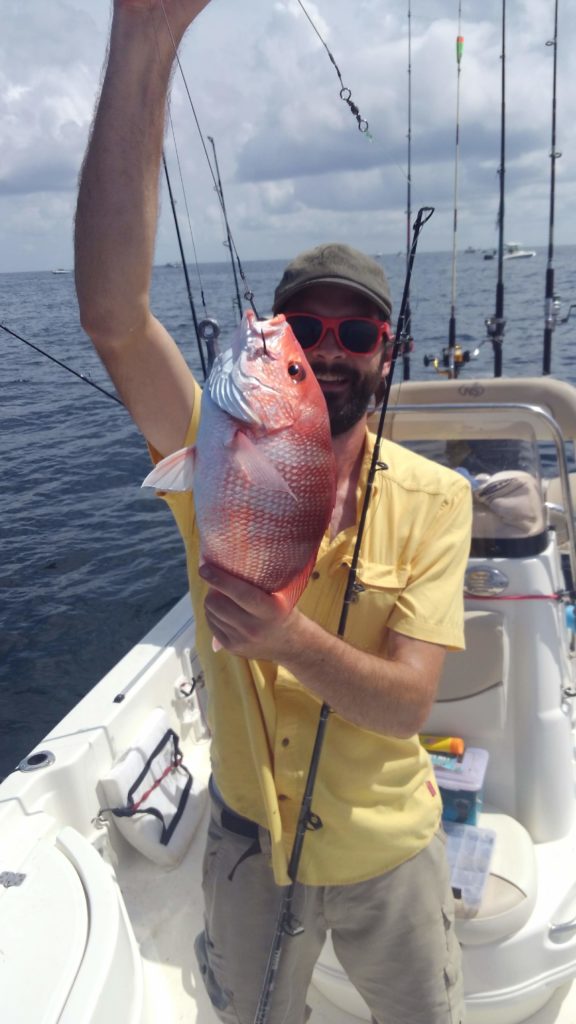 His second was a bit better.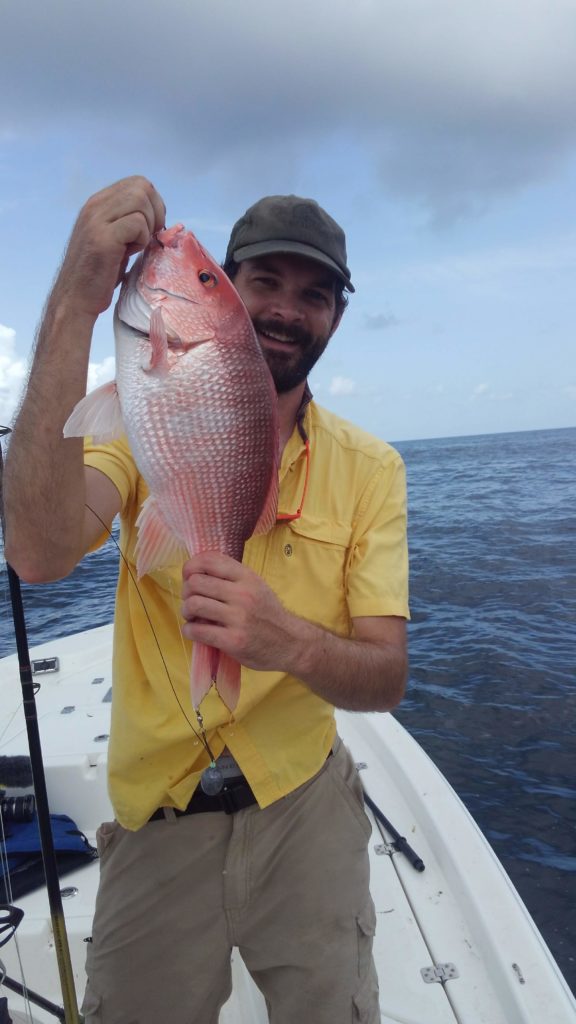 We stayed on the snapper grounds for about two hours until we all had our two Federal water snapper. The sky was starting to darken toward shore anyway.

We came in to state waters to a spot where we often found decent snapper. It was our hope to catch our limit there as well. After anchoring we were instantly on the snapper and a few other types of fish as well. We caught some trigger fish, oyster fish as well as some huge hard-heads. All were released. Except the snapper. We each kept two of them.

As we fished we noticed the sky continue to darken over Freeport. Where we could easily see lights and buildings before, now only a few things could be made out through the gathering clouds. Steve was getting nervous and made a call to his dad. We were only about 8 miles from shore and our phones worked but data was spotty so we couldn't pull up the radar. Steve's dad looked at the radar and told us to come in NOW! A huge storm was building over the coast and moving offshore.
In the time it took to pull in the anchor and put things away we lost sight of shore completely. Now, only a dark wall of fury met our gaze. Not good.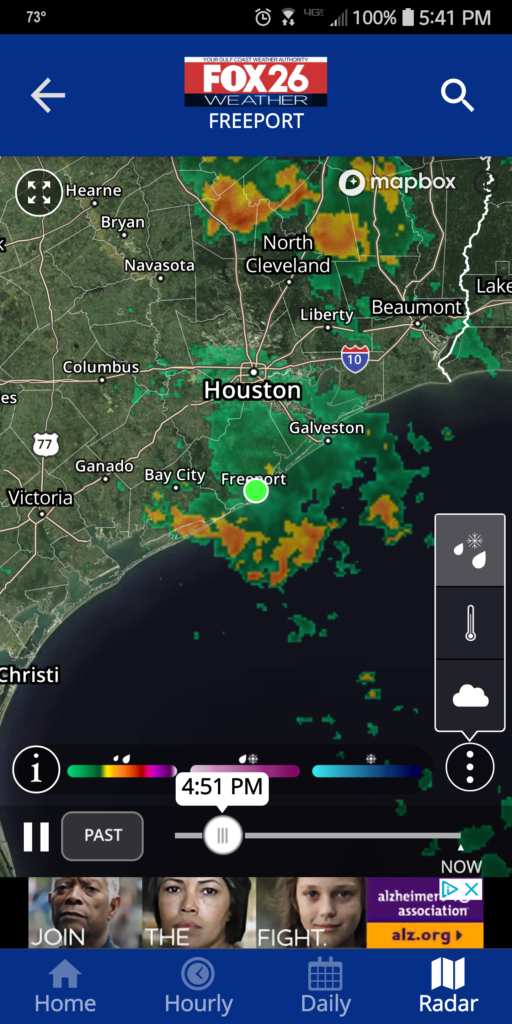 Steve pointed the bow toward the jetties and the storm was upon us. Within seconds we were facing huge waves, hail, lightning and 30 + mph wind. I'm not going to lie. It was scary. The temperature dropped at least 20 degrees and the wind carried tiny biting ice crystals. I had to take my glasses off because I couldn't see with the amount of water hitting them. When the lightning started Kyle and I scrambled to lay all the rods down before they attracted any electrical attention.

Even though we were only about 8 miles from the beach we were nearly 12 miles from the jetties. All Steve could do was point the bow into the waves and work the throttle. Our boat can do a little over 30 MPH in ideal conditions. With winds between 20 and 40 mph, and some much stronger gusts, we didn't seem to be making any headway. Not to mention the 6-8 foot waves trying to climb into the boat with us. Thankfully, even though we were pointed into the storm and somewhat away from the jetties, the current swung us almost directly there. Never has there been a sight as beautiful as those channel markers at the mouth of the jetties.

Am I ever grateful that we always leave plenty of fuel in the tank for the return trip. Our rule of thumb is 1/4 tank out, leaving 1/4 tank to get back and half a tank in reserve. It might seem like overkill but we like to be cautious. That way, if we wind up chasing fish schools or some other thing we would have plenty of fuel. We did not foresee circumstances like this. It took us about an hour to cover those 12 miles back to the relative safety of the jetties. During that time we took several big waves over the bow and had lightning hitting uncomfortable close. We hit the dock with just over 1/4 of a tank remaining.
Lots of boats were just loitering around the boat dock as people recovered from their own personal ordeals. Many people looked to be in shock and I'm not sure we were much better. We were soaked to the bone and chilled as well as exhausted. After getting the boat on the trailer we just kind of sat there in the truck happy to be back safe and wondering if everyone else was as lucky.

Remember all of those boats I had seen on the snapper grounds? Well most of them got caught in the storm. The marine radio was buzzing with calls for help. Later I would learn of boats that sunk and people in the water. Several boats ran out of fuel or lost an engine trying to battle the storm. As far as I know no one died but there were lots of empty boat trailers waiting at the ramp for boats which might never return.
Still there were fish to clean and a boat to wash up. The ride back home was a quiet one.

We did manage to get our limit of snapper and Kyle had a nice pile of fillets to take home with him.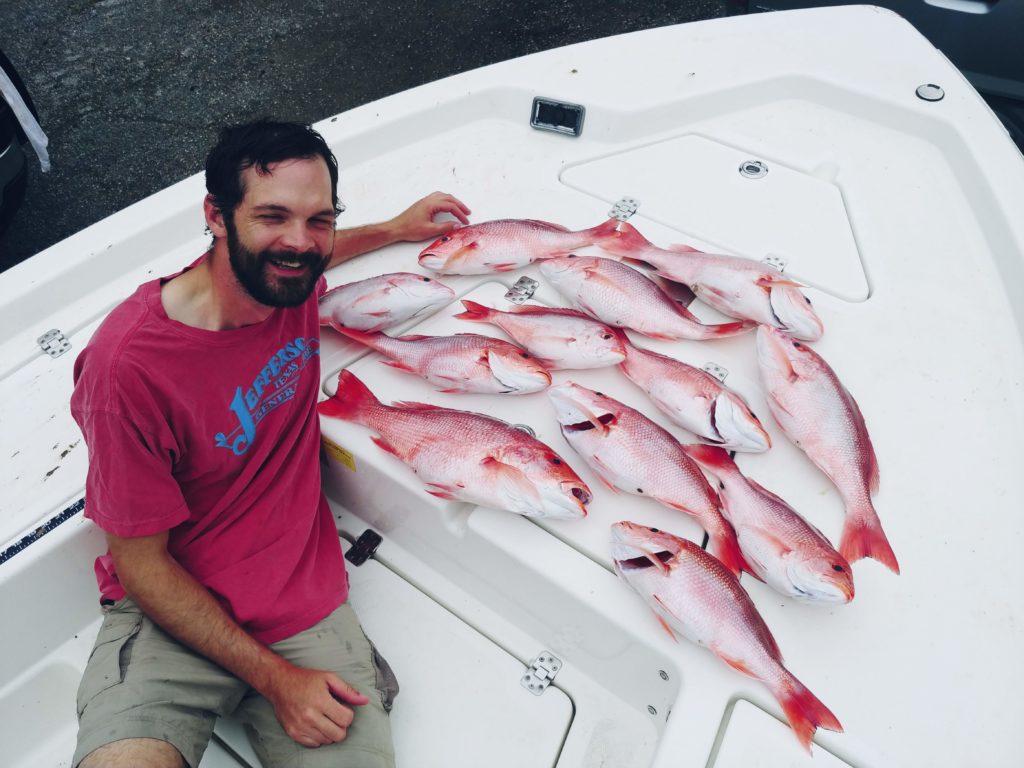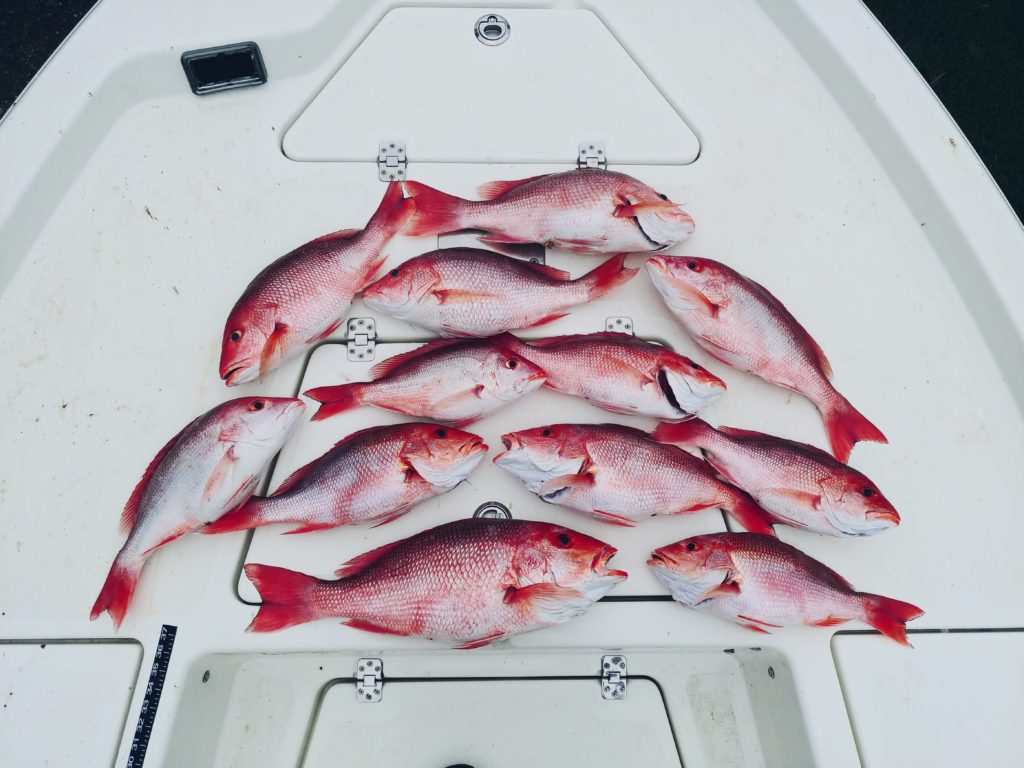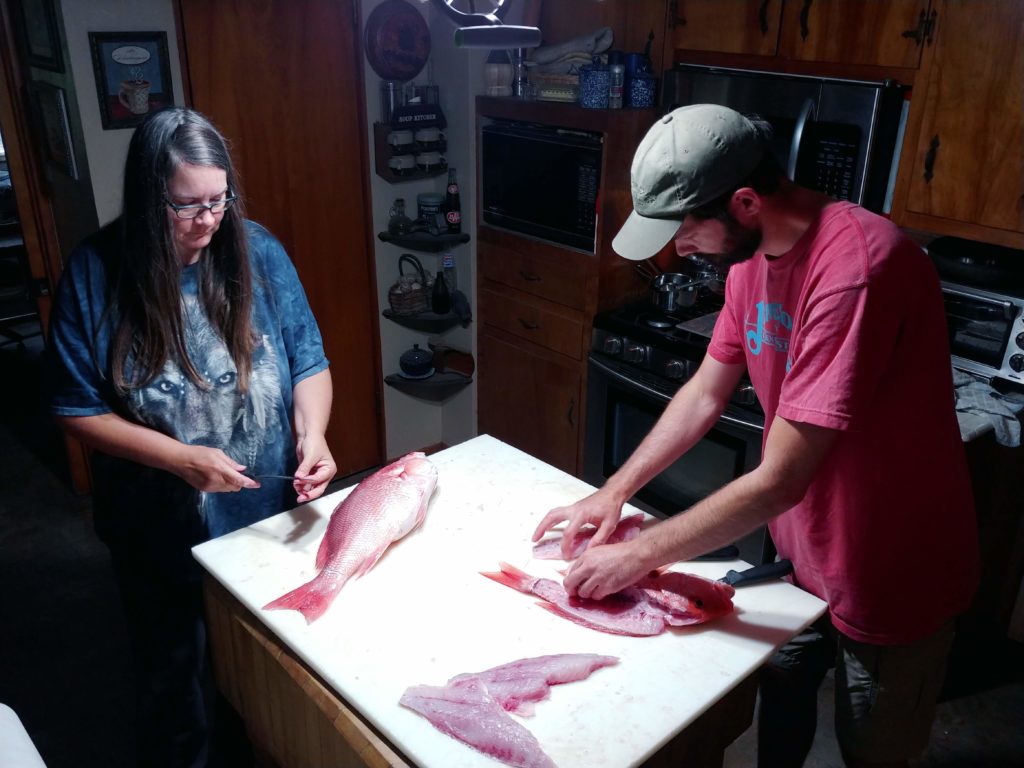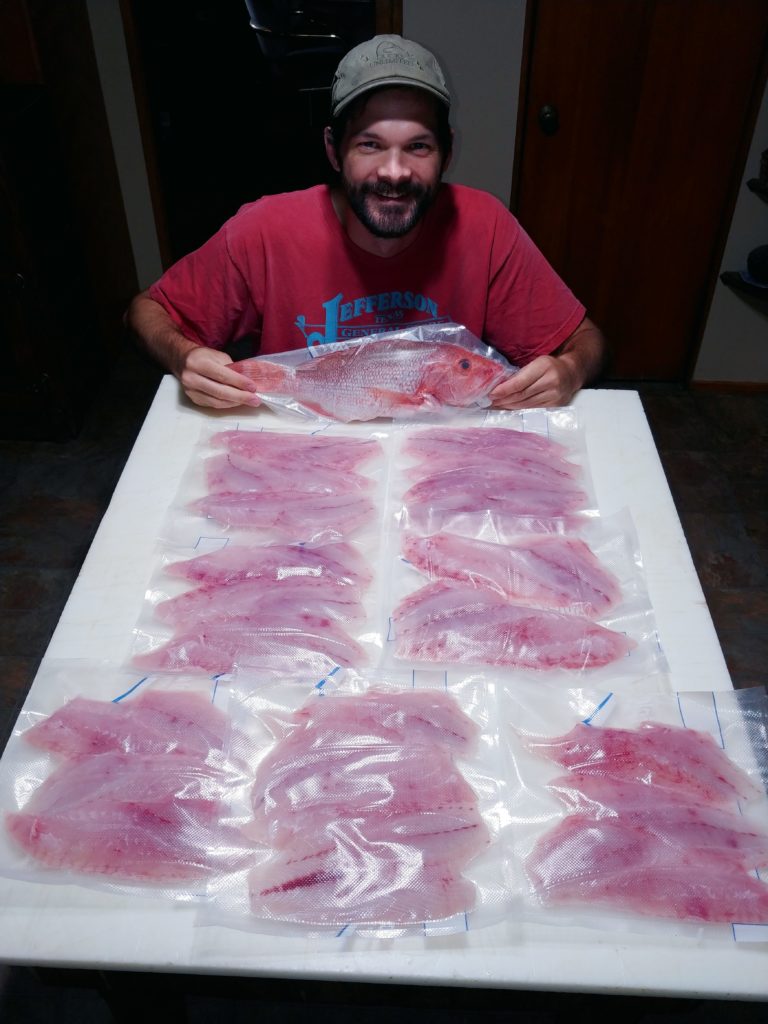 We survived and have the T-shirt to prove it.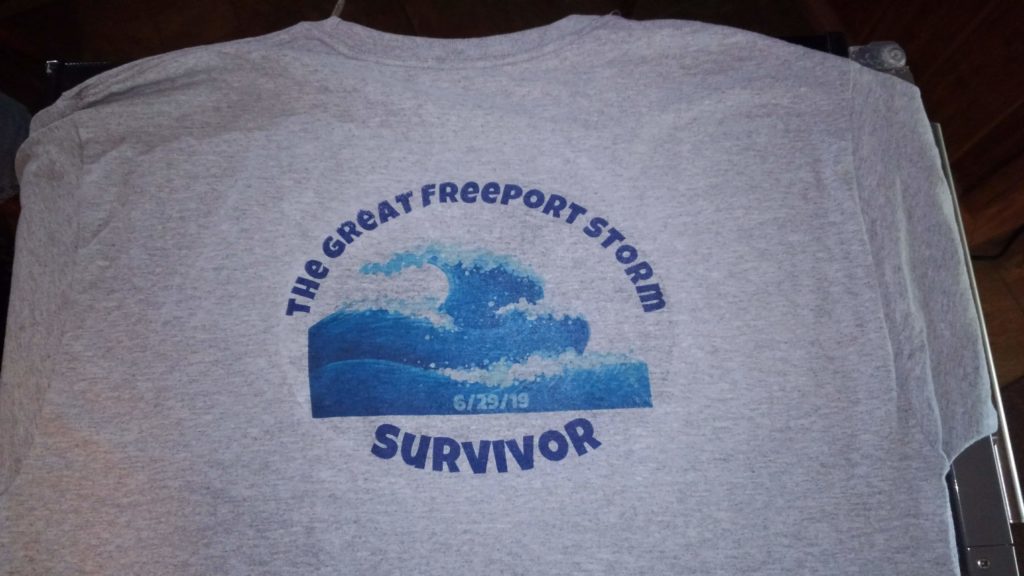 This video was made using our own footage as well as some from other boats.
1596
0
0
cookie-check
Fishing with Kyle