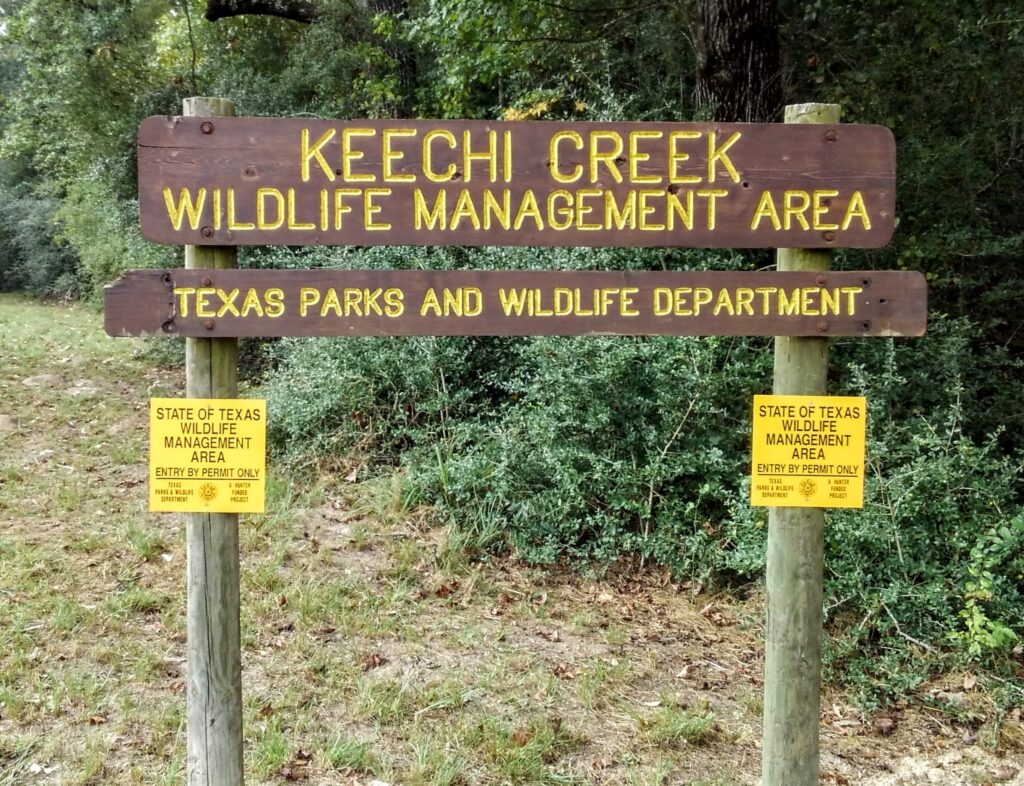 Of all of the Texas Public Hunt systems Wildlife Management areas, Keechi Creek WMA holds a special place in our hearts. It was at Keechi Creek, about 25 years ago, that Steve and I started our public hunting adventures.

Without any property to hunt of our own I looked for public hunts to scratch my bow hunting itch. Neither of us had ever gone on a Texas public hunt but were willing to give it a try. After many hours of research I decided that we should try to go standby at Fort Boggy for their bow hunt. So we spent days packing and then headed North to put our name in the hat, or bucket, for any available spots.

Unfortunately, when we arrived at Fort Boggy we were disappointed to hear that they had no open positions. But, here is where everything changed. The hunt co-coordinator told us about Keechi Creek WMA, gave us directions, and said that they usually had openings. With time running out we followed the winding back woods roads and found ourselves at the check station just in time for the draw. Several compartments were available and we were in!

That hunt was a blast and both of us had opportunities at deer. Steve even stalked up on some does but couldn't get a shot. For the next several years we hunted Keechi and usually had opportunities. Steve shot his very first pig there.

But times, managers and management styles changed and we didn't go back. One of our last hunts there, a waterfowl hunt, actually ended on a very sour note when the hunt coordinator threatened to call the sheriff on us for trespassing because we were almost late (11:48) getting out of our compartment. Never mind that we had to fix the gate that had broken hinges and wouldn't close properly. Leaving it open wasn't an option because it kept cattle out of the area. And the permit said our shooting time was until noon. He was in a hurry to get home, obviously hated conducting the hunts, and irritated that he had to work out in the middle of nowhere and we were slowing him down.

As someone who loves rules and regulations and could read perfectly well that we were allowed to hunt until noon I took his anger personally. During orientation he never once stated that we needed to be off of the WMA by noon or we would have started back even sooner. I know that what the hunt manager says supersedes anything published but he never once told us to be GONE by noon. When he started in on us and said he was about to call the sheriff and have us cited we were not happy. I think we hunted there a couple more times but that incident really stuck in my craw. So we just quit going.

Until now.


This year (2020) we were drawn for the E-postcard archery only deer hunt. Since we had not been drawn for any other hunts this would be our only guaranteed opportunity this year. It was with mixed feelings that we one again headed to the thick, post oak savannah, of north east Texas.


There were some changes from the Keechi Creek of our past but, in truth, it was much the same. The check station was now much larger. There was a simple cleaning station and the primitive camping area was a bit larger.
Check Station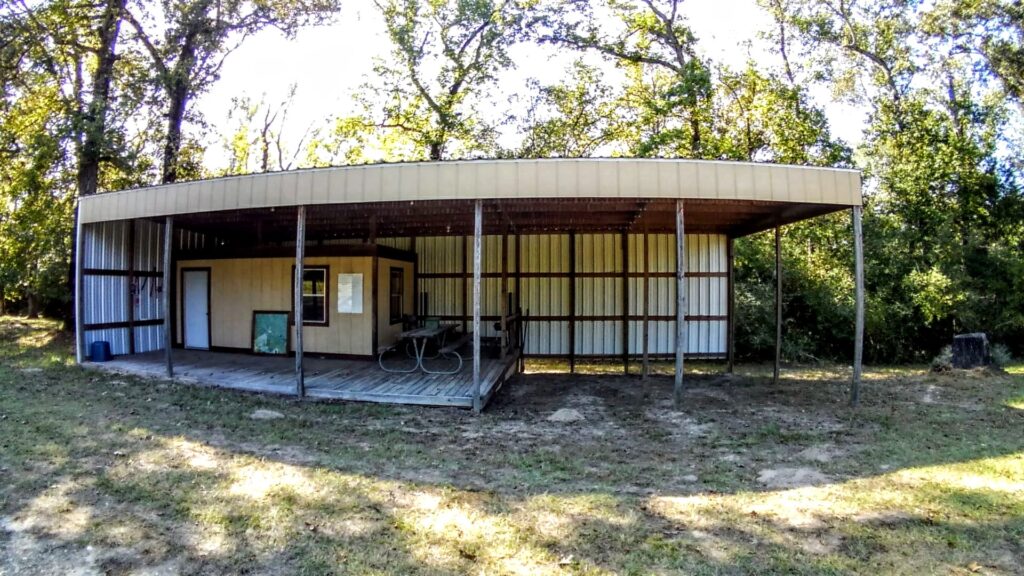 Cleaning station
Primitive camping.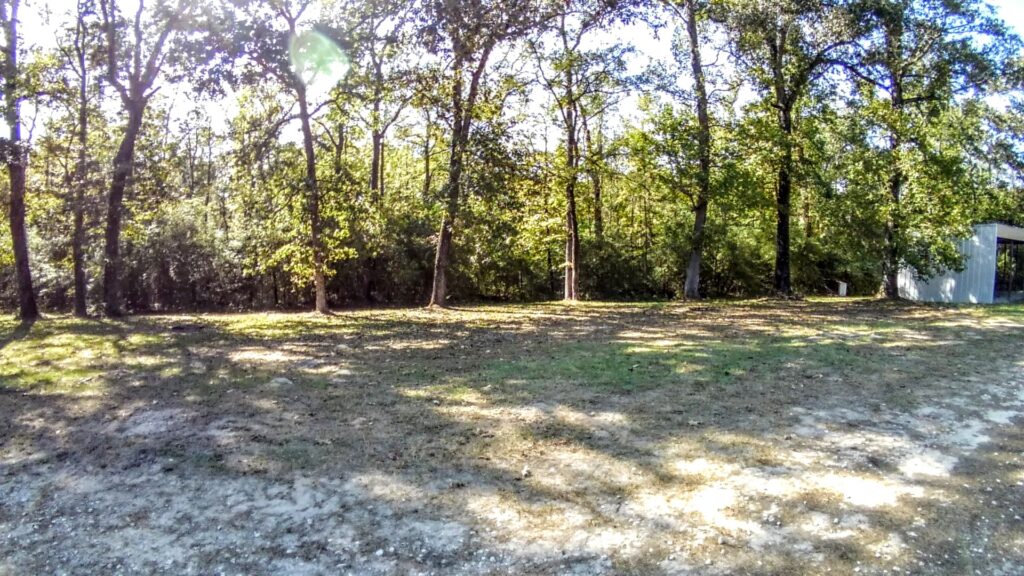 A note about the camping area. This is truly a primitive camp. There is no electricity, no water and no restroom. Some simple fire rings are available and that is about it. It you like "roughing it" then this is absolute paradise. There are even hoards of mosquitoes to sing you to sleep. Several hunters chose to camp during our hunt and they seemed to enjoy it. We chose to do our camping at the Days Inn in Centerville.

Another change from our previous time was that you log in your own deer. Detailed instructions were given during check in about this process. It seemed pretty straight forward.
In addition, instead of assigning compartments, every hunter had free reign of the entire area. Most of us communicated where we would likely be so there were no conflicts. I did hear of one hunter setting up near another (in the dark) but no one was mad and everything worked out.

While scouting Steve even found the very first tree he had ever bow hunted out of. He was happy to see it still standing. It is a bit larger now and a little old and worn but aren't we all? That large oak right there in the middle.



During our hunt we saw a few deer. Most seemed in poor shape for some reason. We set out several game cameras and caught many thin and skinny deer on camera. Even the pigs seemed starved. Perhaps this was due to the floods? Either way we didn't really want to shoot them because there was no meat on them.

As seems to be the case the only deer we had come in during shooting hours was illegal. It was also in the best shape. This young fork horn is one lucky deer.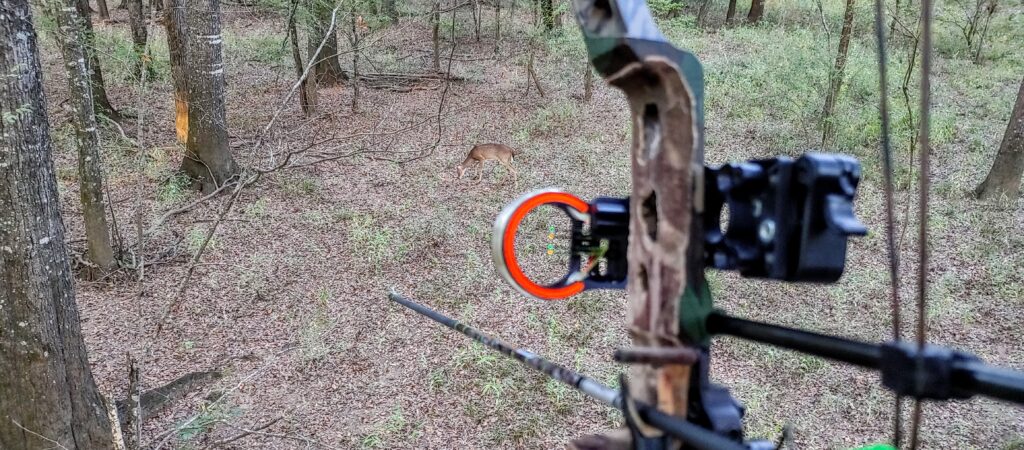 In truth, we didn't even have many deer show up even at night and the ones that did were pretty skinny. Including the pig. We heard from another hunter that had a chance at a doe but passed because she was so thin.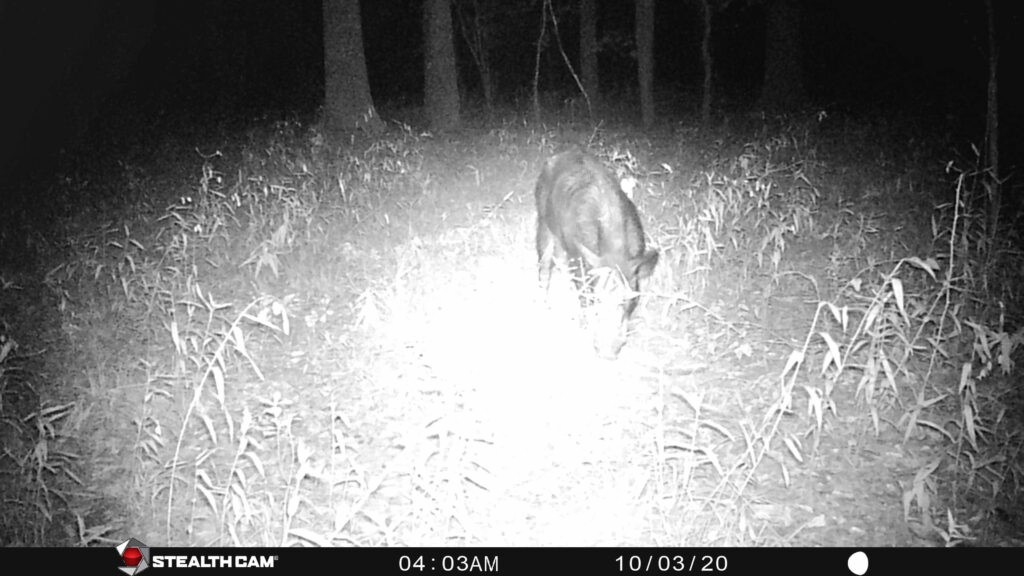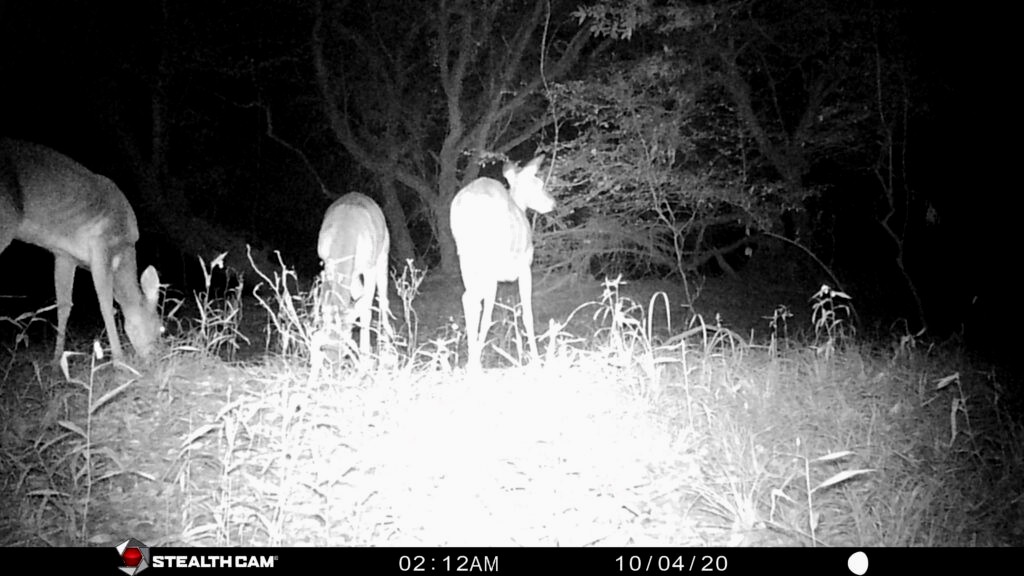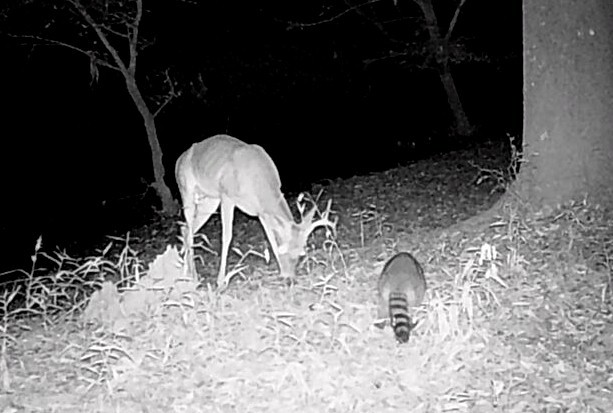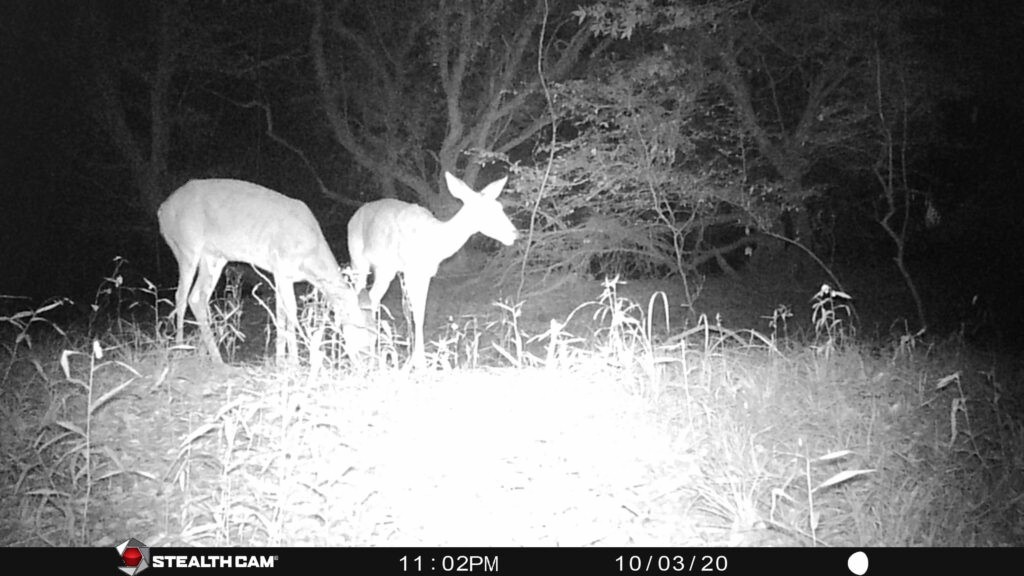 Note the back bone and hips. His neck is the fattest thing on him.
If you are thinking of trying your luck at Keechi Creek here are some observations. The main road was mostly drivable. There were many very large downed trees which made navigating the other roads a challenge. We were there between rains so, while there were large ATV eating puddles, most could be worked around. An ATV is pretty much a necessity if there has been any amount of rain. Otherwise you will have a long hike to get to the better areas.
The mosquitoes are VICIOUS! The thermacell only thins them out a bit. They are so thick you can see large dark clouds of them. Maybe they are why the deer are so skinny?

Make sure you have good directions. Google Maps will flat get you LOST. The road to the area is mostly dirt and sand. If you are not driving a tan vehicle, you will be! Also, remember to blow out your air filter after the hunt.

While the hunt coordinator was only there for our first day he was very friendly and helpful. He answered all of our questions and made sure everyone was happy before he left.

While our hunt was not exactly successful, in fact only one hunter of the twelve who hunted took any deer, the area is beautiful. Large oaks predominate the flats and numerous creeks, washes and gullies crisscross throughout. Evidence of the recent flooding and high winds was everywhere.

Because of all this wetness and downed wood mushrooms were everywhere. As an aspiring forager I loved seeing the diverse variety.


Turkey Tail
(Tremetes Versicolor)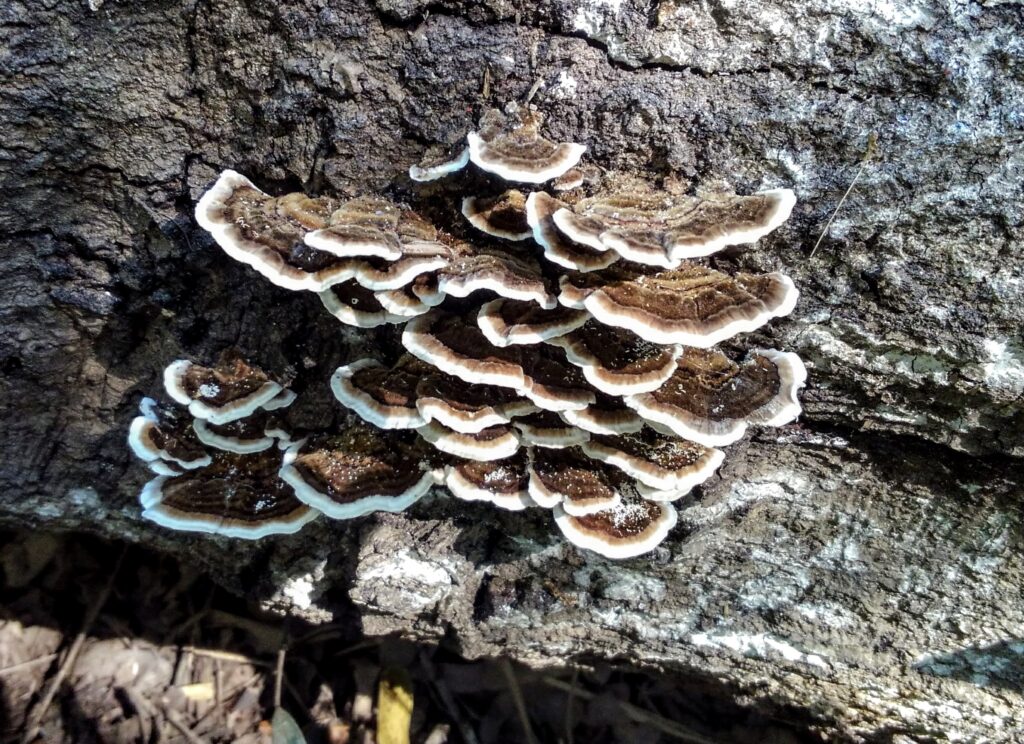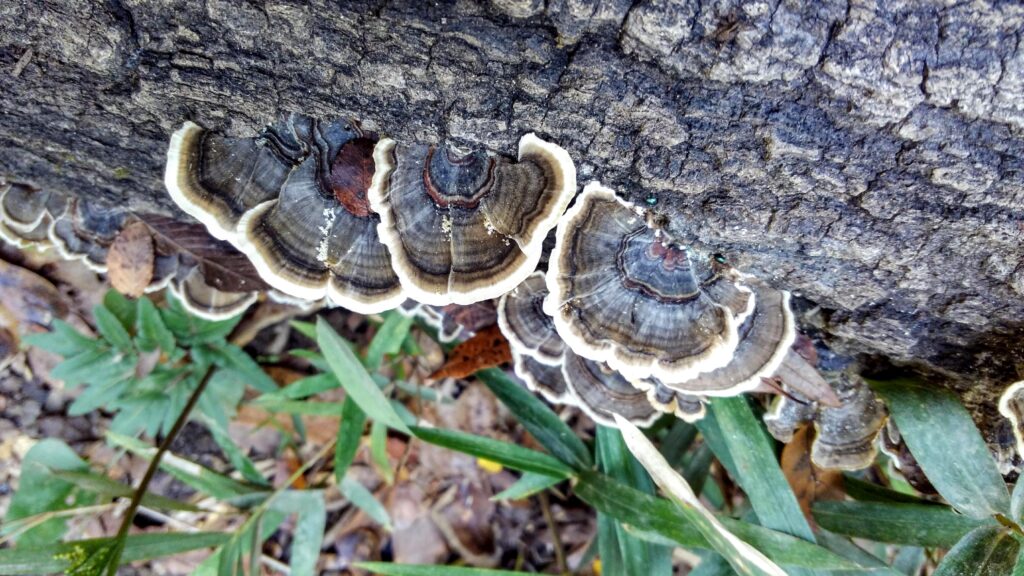 A large group of Inonotus quercustris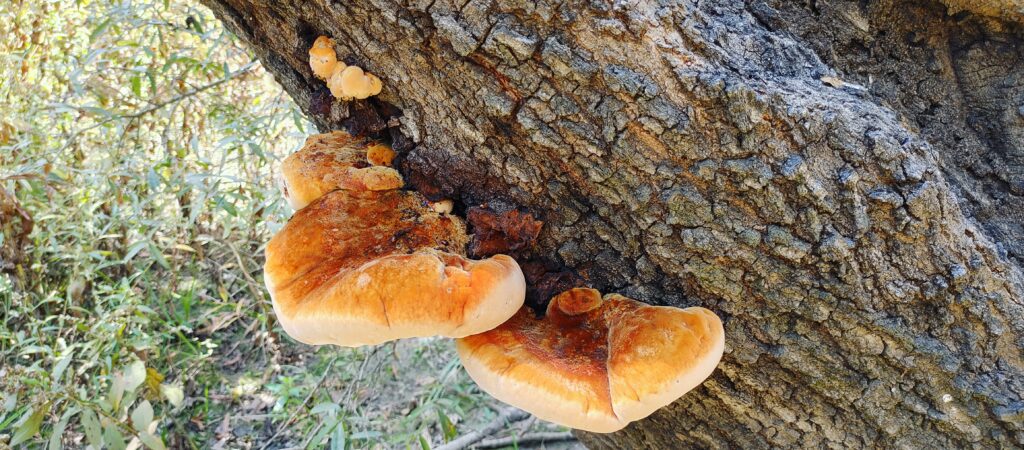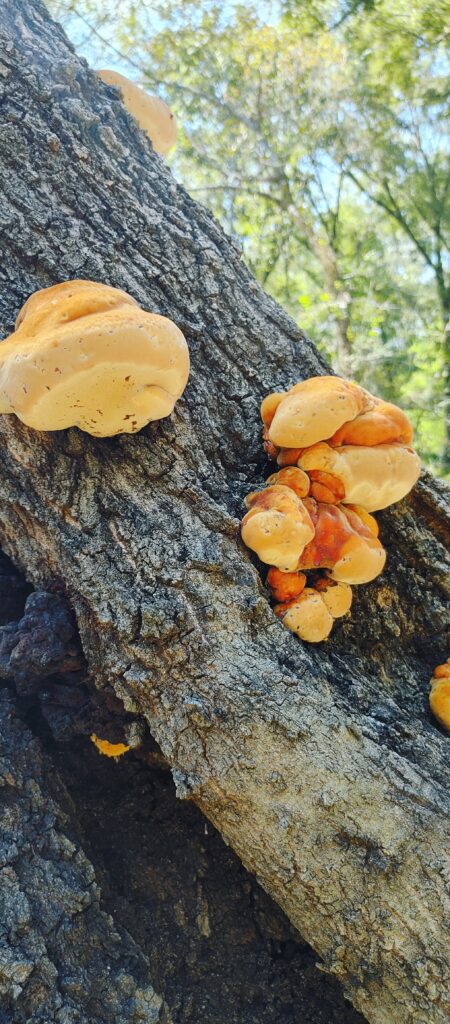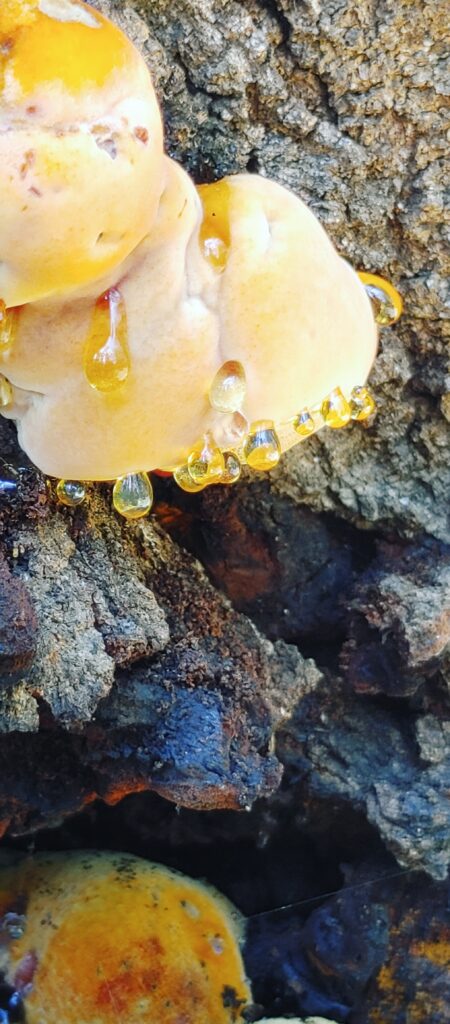 Reshi (Ganoderma sp.)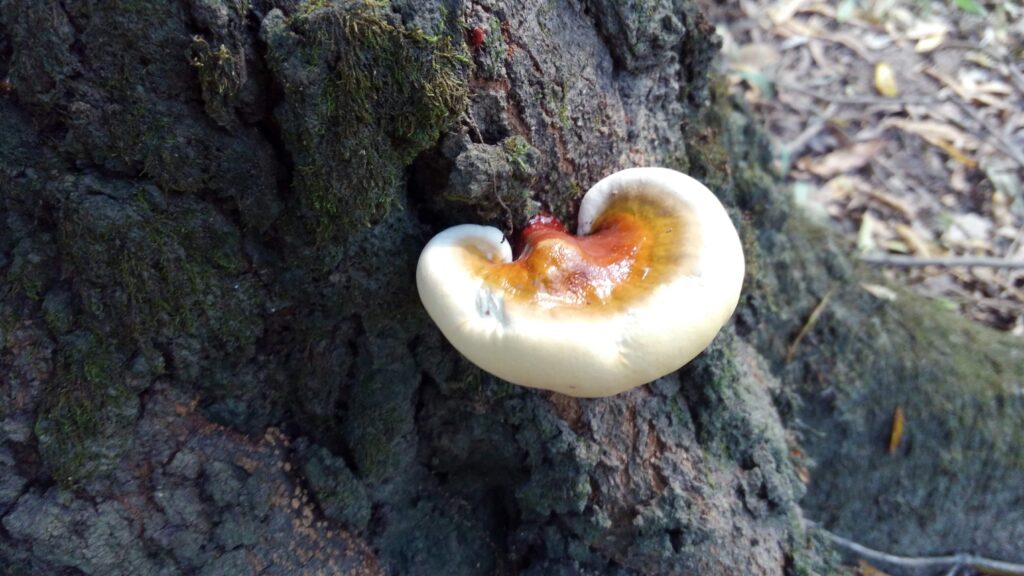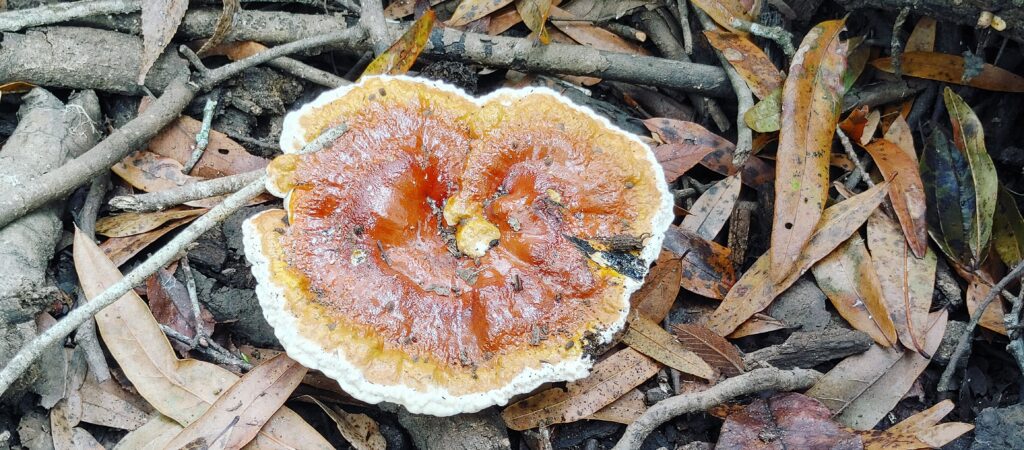 Probably Russula sp.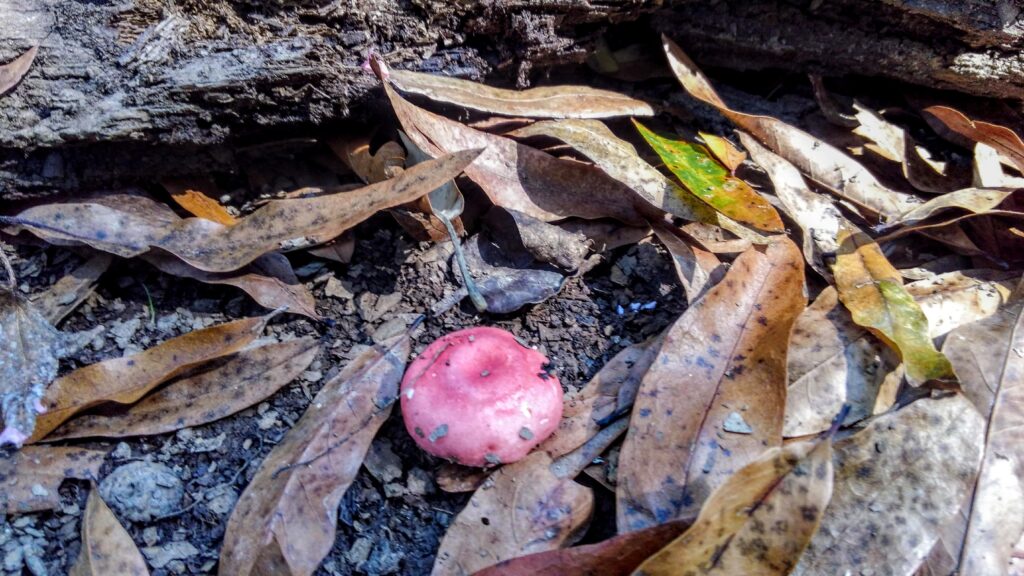 Unknown.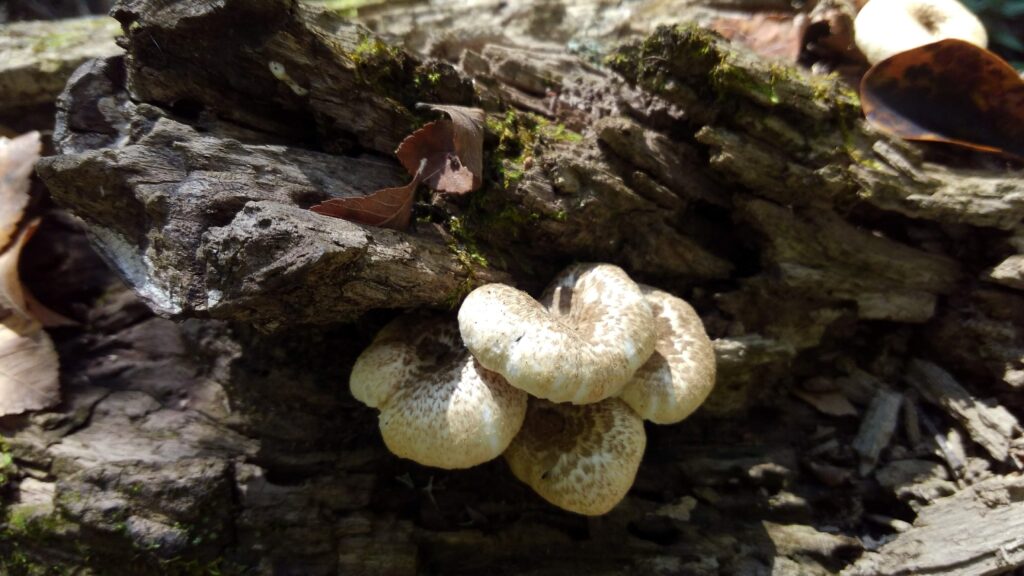 Very old Artist Conks (Ganoderma Applanatum)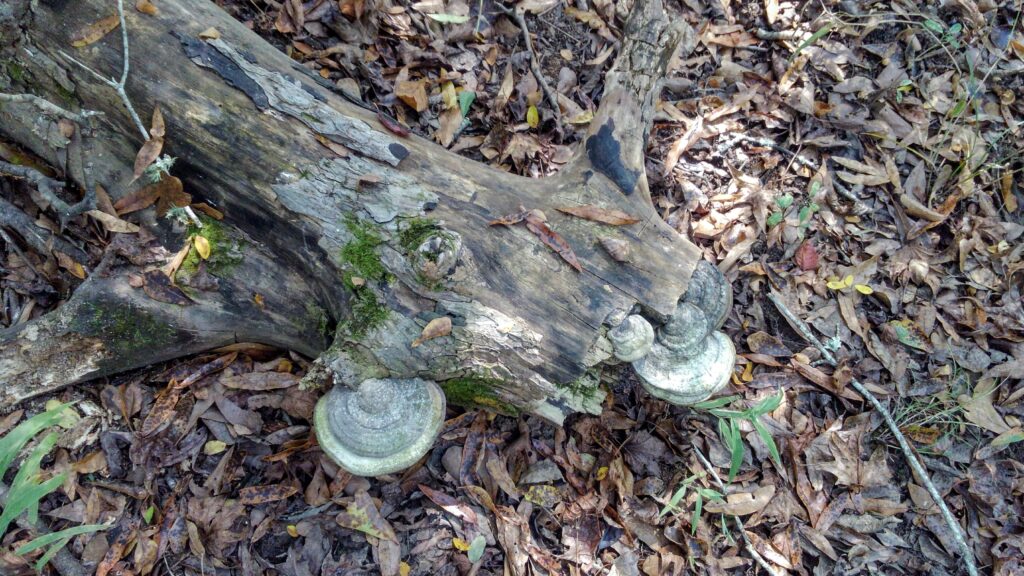 Probably (Merulius Incarnatus)
Leafy Brain Fungus
(Tremella foliacea or Phaeotremella frondosa depending on who you ask)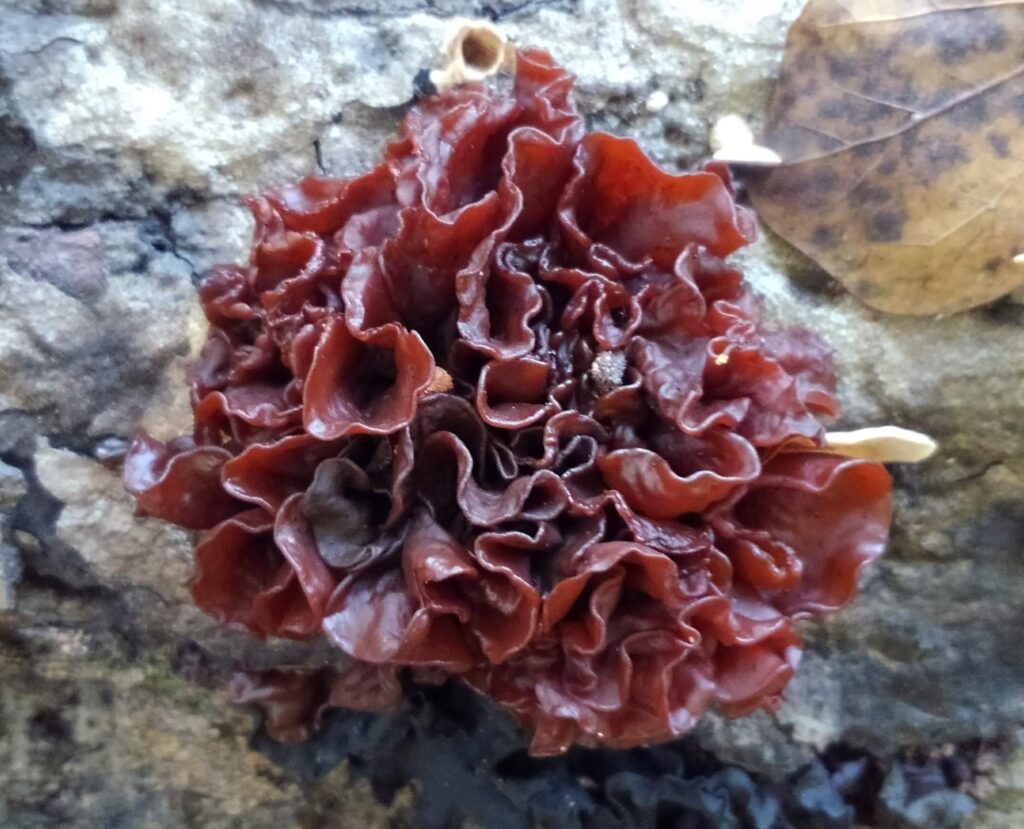 Ringless Honey Mushrooms (Armillaria Tabescens)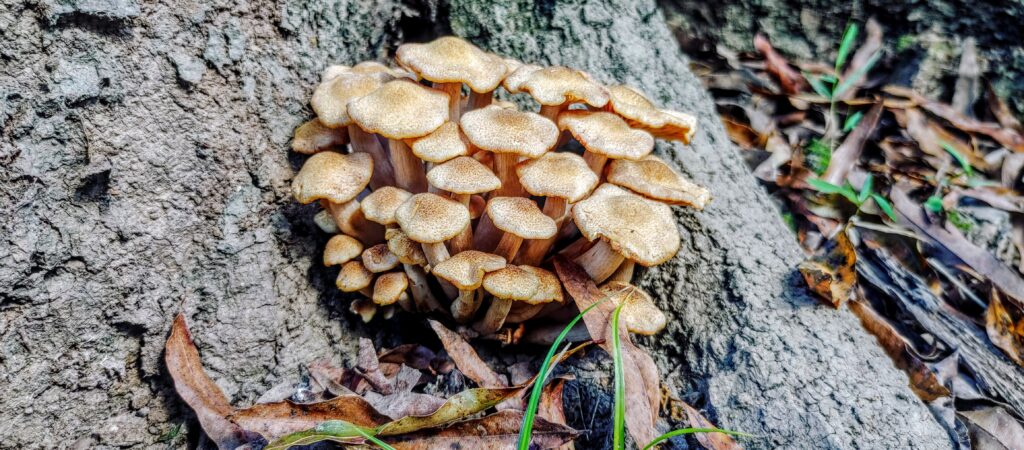 Stereum Ostrea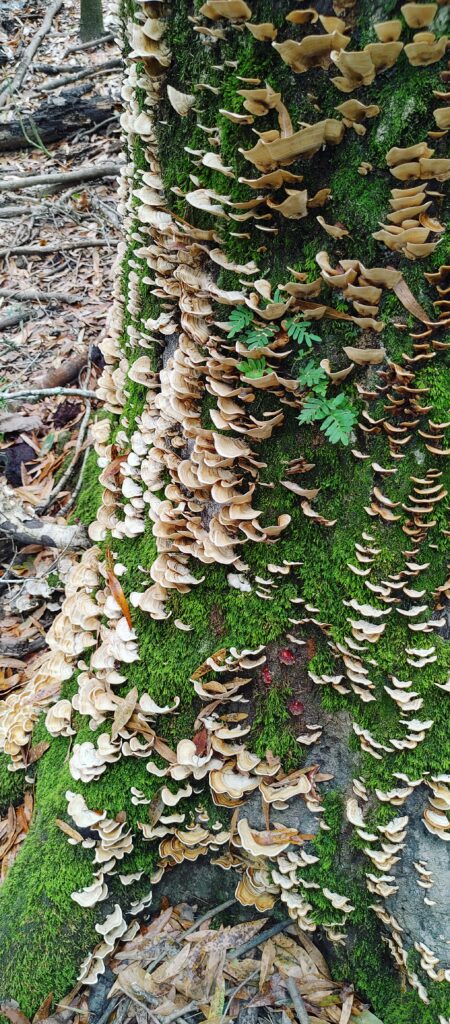 East Texas Toad (Anaxyrus velatus or woodhousii x fowleri)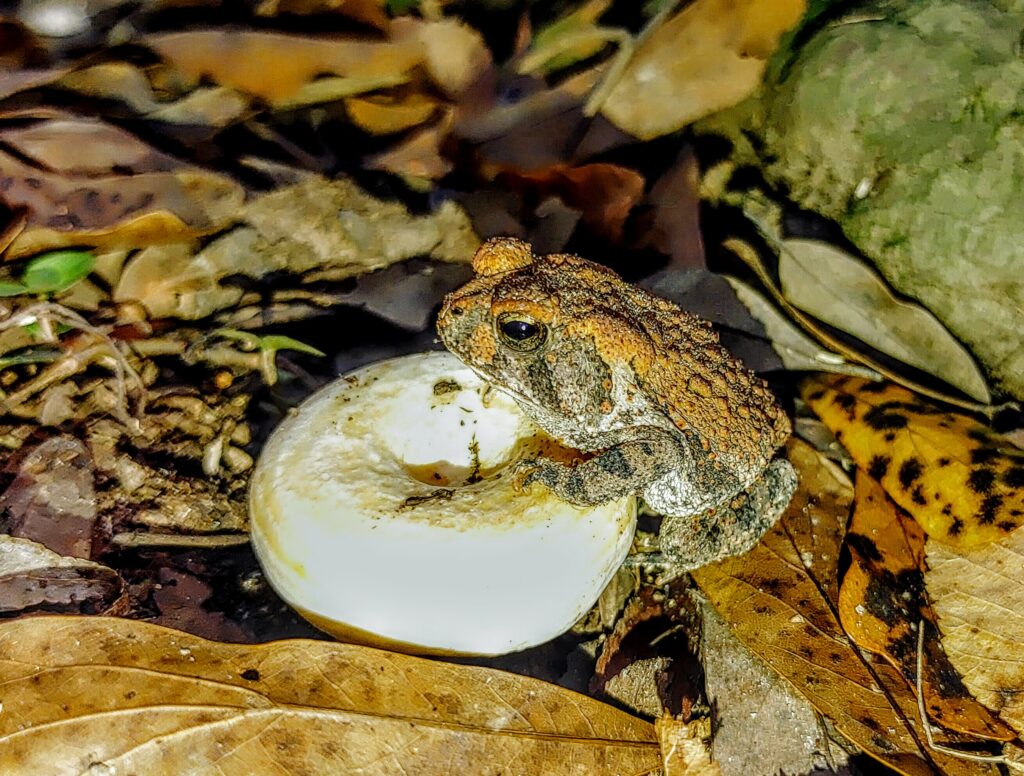 2045
5
0
cookie-check
Keechi Creek WMA (Oct. 2020)