Steve Bradbery and I headed to Matagorda Island to see what new adventure we could find. The weather was awesome and the water in the bay was clear and calm.
We unloaded the boat and set up camp and then decided to go fishing. Matagorda is known for the great fishing opportunities so we came prepared. At first I couldn't keep the sheepshead off my hooks. They were ravenous and big! While I was playing with them Steve started pulling in speckled trout. Within a short time he had his limit so I took up his rod and caught a few myself. Only one of mine was a keeper but they were all a blast to catch.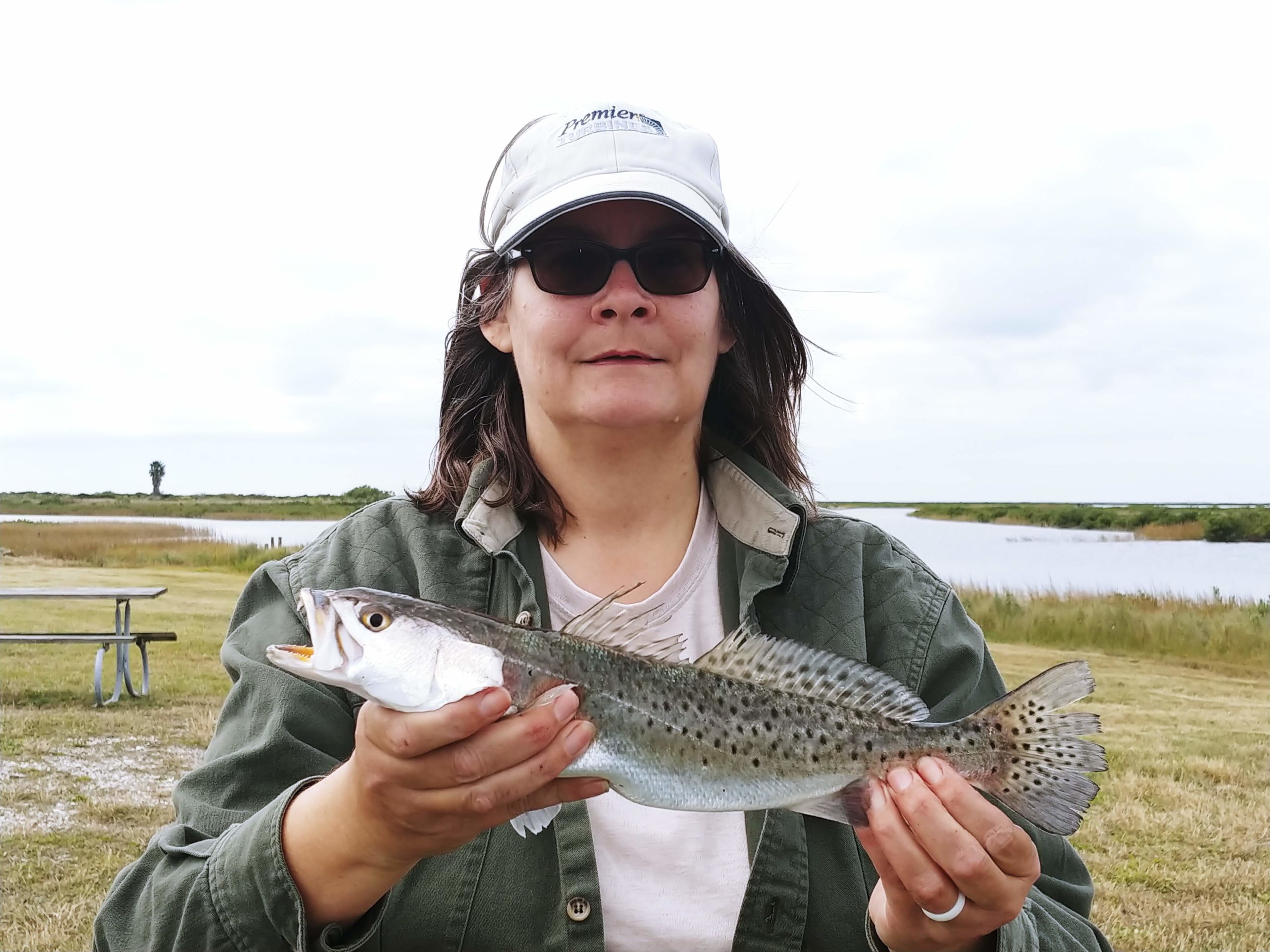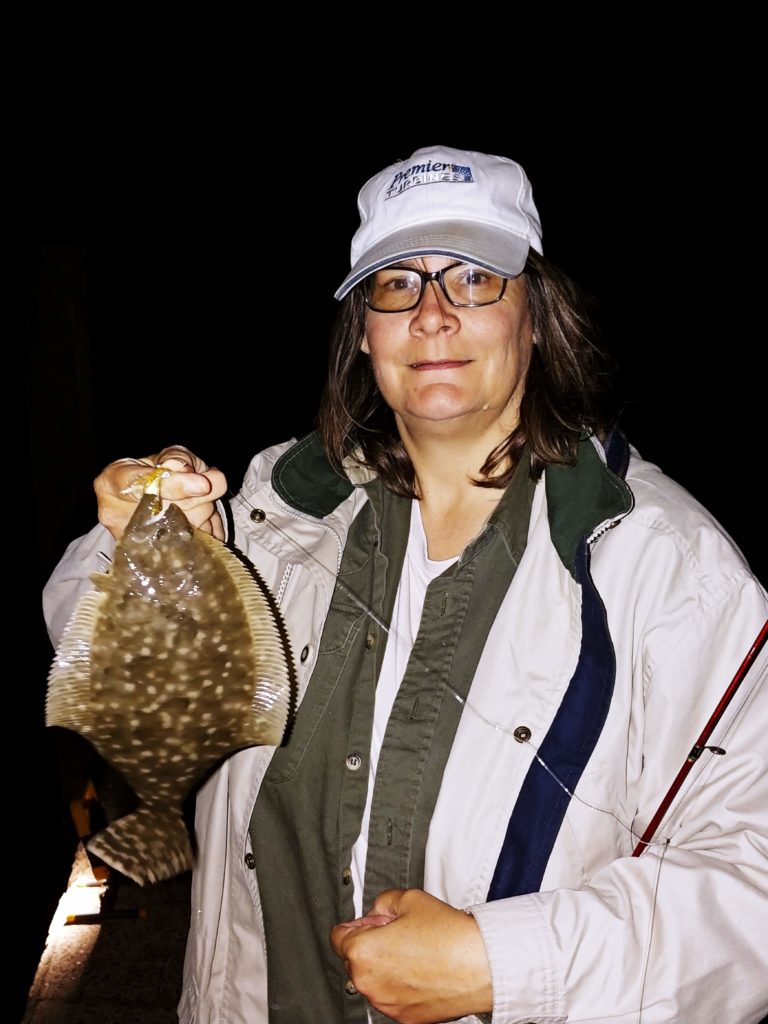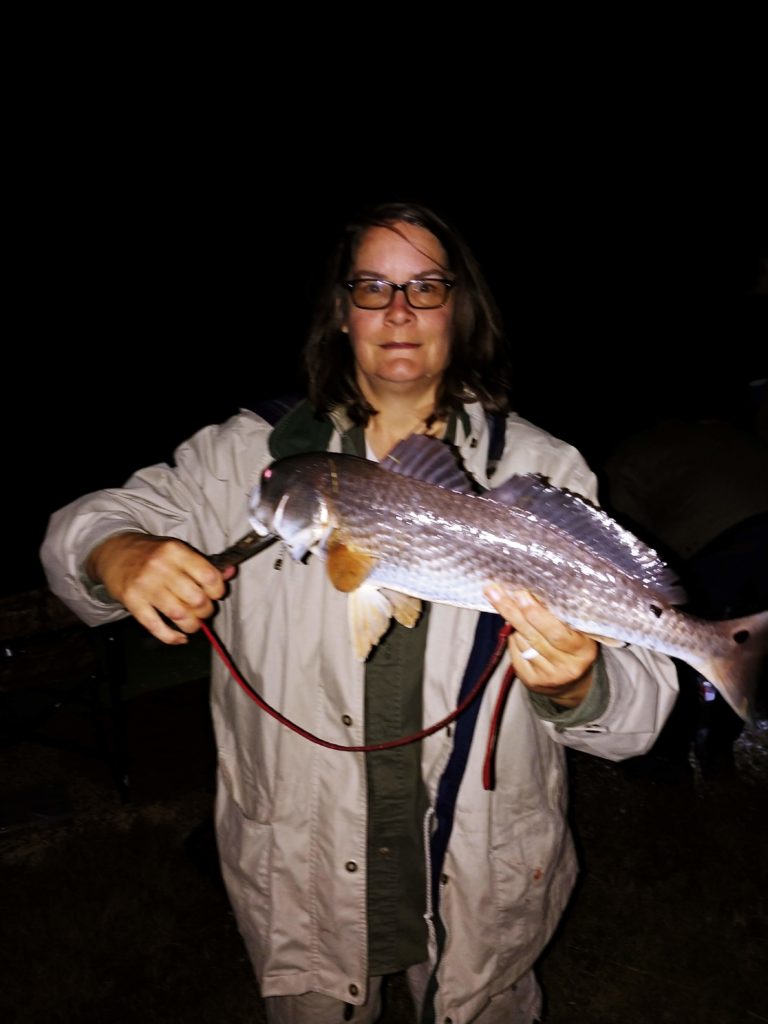 But this trip wasn't about fishing. We were there to try and participate in the either sex gun deer hunt put on by Texas Parks and Wildlife which started the next day. We arrived a day early so we could get camp ready and do some fishing. We were not drawn for the hunt and so were hoping to fill a couple of standby positions if they were available. We wouldn't know if we could hunt until the next day. As we fished other hunters, both drawn hunters and standby hopeful hunters, began arriving and setting up camp.
As the sun set I filleted out our catch and then battered them up with a bit of toasted coconut and flour. There was way more than Steve and I could eat so I went from camp to camp offering up the freshest fried fish you are ever likely to eat. No one turned down fresh fried speckled trout and everyone seemed to like it.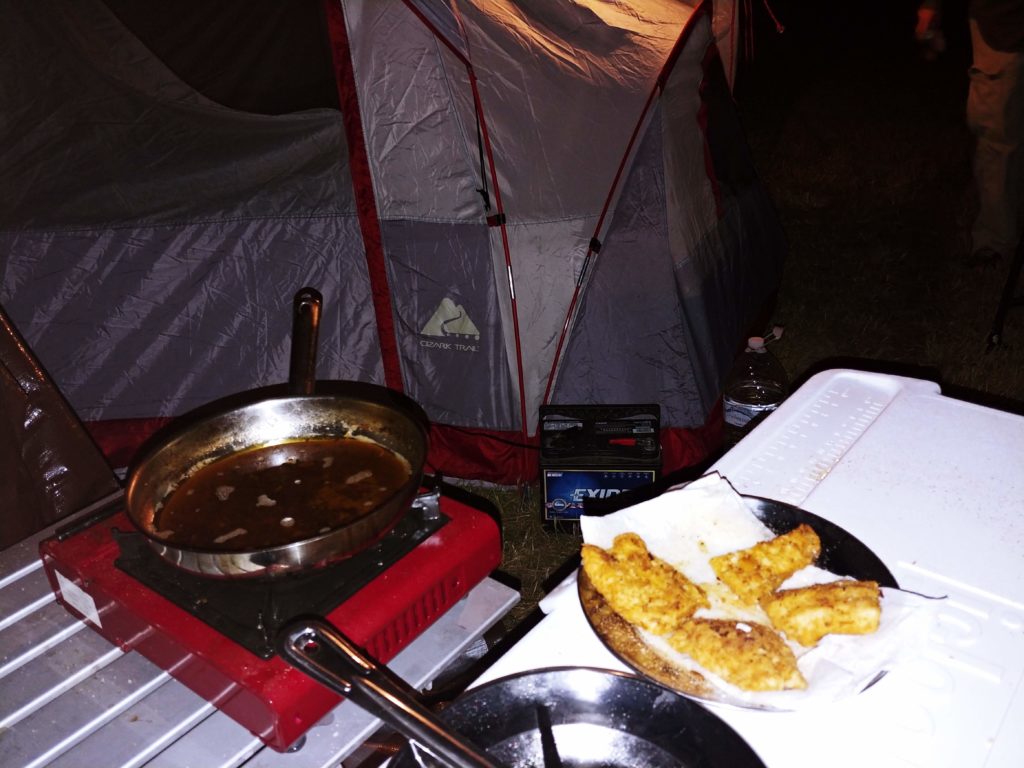 The next morning even more hunters began arriving. We knew our odds of getting picked for one of the few standby positions got less likely with each boat load. By our rough count several people would not get to hunt. It has been our experience that TPWD hunt coordinators tried their best get everyone in but the simple truth is that there were only so many stands available.
Once the cutoff time came and all the drawn hunters had been checked in it was clear that there were far more hunters than positions available. Drat! Steve and I waited anxiously as all the standby hunters cards were placed in a bucket and the on-site drawing began for the few stands still open. I was elated when our card was the third pulled from the bucket. WE WERE IN! WOOHOO! Unfortunately, five other hunters did not get drawn. I have been in their shoes and totally understand the crushing disappointment of walking away as other hunters prepared to head out.
Next we drew for stand positions and Steve and I got stands about half a mile apart. Speaking of stands… a unique and un-explainable phenomena sometimes happens when the weather is just right. Unique, but definitely not welcomed. About half of the stands on the island were absolutely shrouded in a cloud of wasps! Hundreds of wasps swarmed around and through the stands. Not just one kind of wasp either. Red wasps, dirt dobbers, yellow-jackets, heck even honey bees and bumble bees swarmed around the structures. As Steve is allergic to these, his intense concern upon seeing them was understandable. The same thing greeted me at my stand and I struggled with what to do. I did not look forward to wading through the fog of irritable insects just to sit in a small wooden box among them.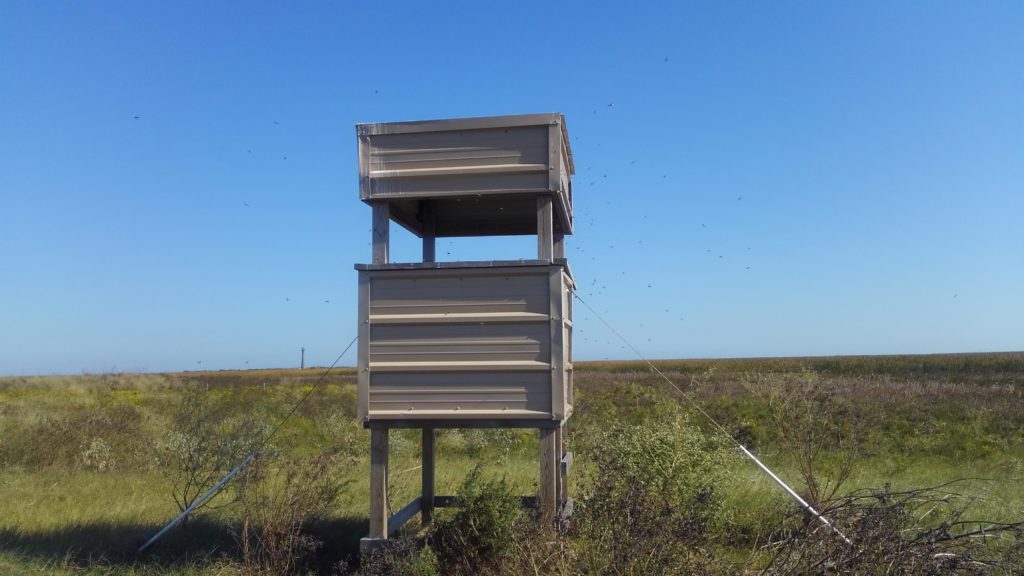 Wasp Frenzy
Inspired, I started up my Thermocell, made sure it was warmed up and working, and threw it in the stand like a grenade. It landed in the middle of the floor and began spewing forth a mist of insect repellent. I swear the wasps laughed! I fully expected them to throw it right back at me. Dejected, I grabbed up some nearby fluffy weeds and began to do battle for my stand. I only got stung twice but did manage to get myself and my gear into the stand. Even then I had to keep swatting at wasps for over an hour as they formed ranks and mounted several counter attacks. In the end they departed and I was left in relative calm.
Steve, on the other hand, didn't dare try a frontal attack. One of the hunt personnel brought him a can of wasp spray and he doused his stand liberally. The wasps simply ignored the spray and continued swarming. Steve elected not to chance a trip to the emergency room and returned to camp. With luck the spray would do its job and Steve could hunt in the morning. At least the fish were still biting so he wasn't completely bored.
I had several deer come by my stand. Then a decent eight point strolls by. His antlers were nice and wide enough to make him a legal target. I watched him in my scope for several minutes with my finger poised on the trigger as I debated with myself on taking him. In the end I let him walk. He was a young deer and I just didn't want to kill him.
I sat watching deer off in the distance as the sun began to set on my first deer hunt of the year. I had seen many deer that first sit and was happy. Then I noticed movement in the corner of my eye. There was only about 30 min of shooting light left but there was more than enough to clearly see the buck walking straight to my stand about 100 yards away. When I put the binoculars on him I knew, without a doubt, that he was more than big enough. I re-positioned my rifle and watched as he closed the distance between us. I had my finger on the trigger as I watched him get bigger and bigger in my scope. As long as he kept coming I was more than willing to let him. Once he was within 40 yards of my stand I decided the time was right and pulled the trigger. The shot was good and he piled up within sight. I was beyond happy when I walked up on him and saw just how nice he was. Taking any deer on a public hunt is always great but this guy made it extra special to me. He was gorgeous.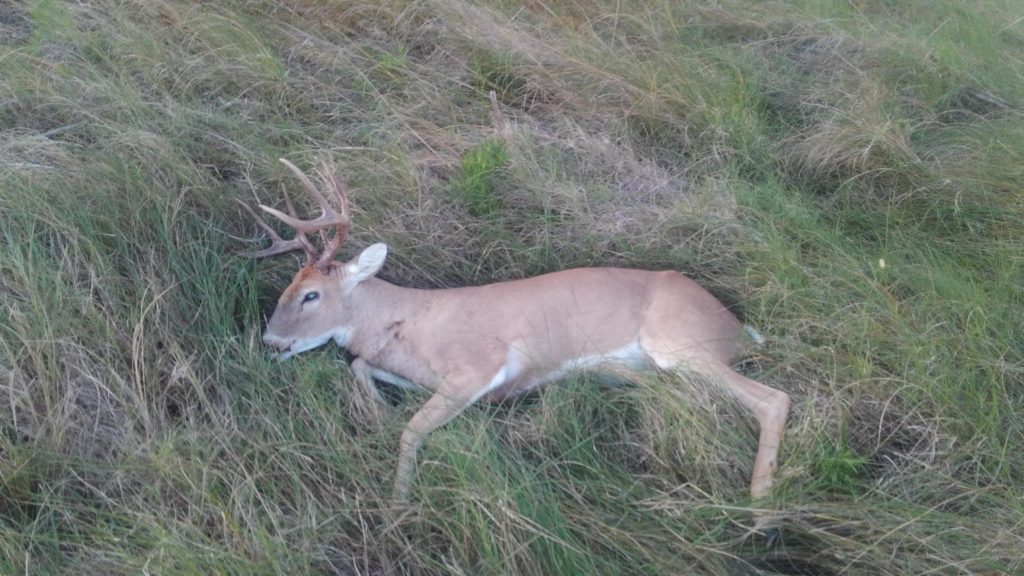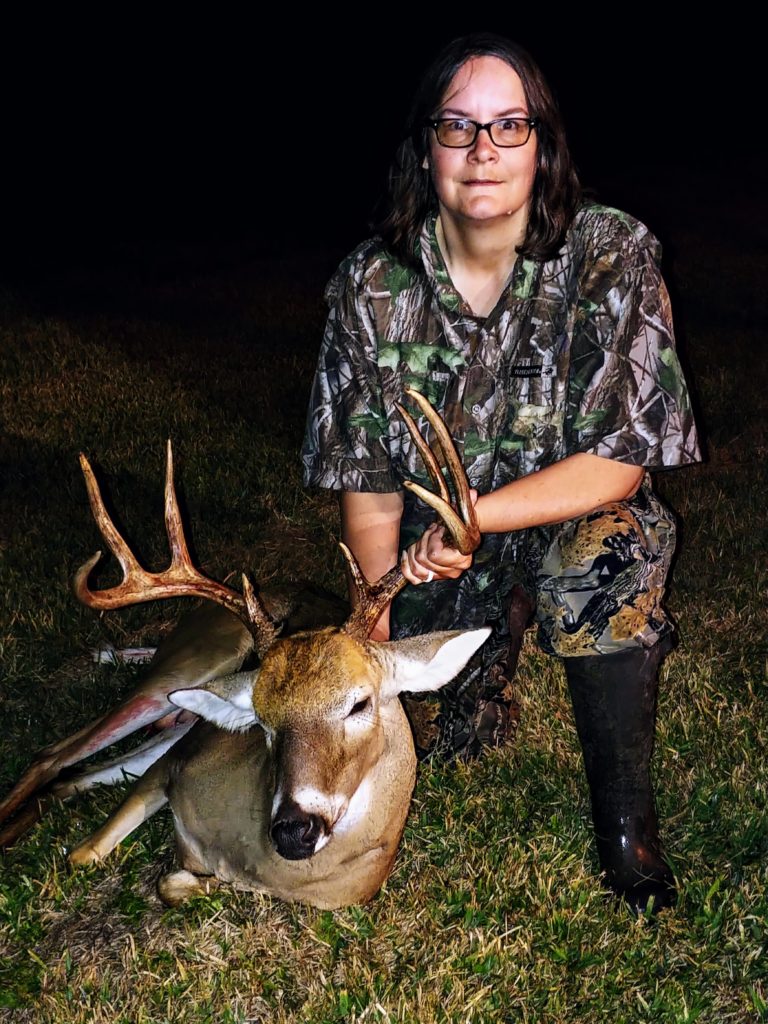 The next morning both of us climbed into our stands. It was foggy and a bit cool. Steve was happy to see that the wasps had not made a reappearance but deer movement was minimal. Steve had some deer walk by his stand before sun up but that was it except for a couple of bucks and a doe about a mile away. Watching the iconic Matagorda lighthouse as it loomed out of the foggy coastal prairie was a treat.


After lunch we headed back out to our stands only to be greeted by… you guessed it, wasps.  They were back. Both of our stands were once again haloed in wasps. Learning my lesson from the day before I covered up as best I could and, with fluffy weeds in hand, waded into the fray. Within a short time I was in my stand. Steve also bundled up and went to town on his flying vermin. He didn't get stung and soon got into his stand as well. Deer movement was slow with only a couple of bucks within range but only one was a legal shooter. I had already taken my buck so was after a doe. Unfortunately none showed.  What did show however, was something totally unexpected. A badger. I was the coolest thing to watch this feller make his way through the brush just yards from my stand. My first ever encounter with a badger. I didn't even know they were on the island yet there he was. The hunt coordinators were surprised as well when I showed them the video.

Steve didn't see any deer within range until almost last light. Then two does walked toward his stand. He dropped the biggest then, when the other stayed around a bit too long, dropped her as well. The bag limit for this hunt was two deer. You could shoot two does or a doe and a buck (Either with one un-branched antler or antlers wider than the ear tips). After checking in his does and cleaning them I decided I was happy with my one buck and we would leave the next morning.

I met some really nice people, heard some cool stories and the hunt personnel were fabulous as always. Tori especially did a great job conducting the hunt and trying her best to accommodate everyone. We will likely be back, weather permitting, some day.
For more stories of our Texas Public Hunt Adventures go HERE.
401
1
0
cookie-check
Matagorda Island 2019