After nearly two decades of putting in the TPWD Exotic hunt draws we finally got picked. I have been wanting to go on an exotic hunt for so long it almost hurts. Even the nearly 9 hour drive to the panhandle couldn't dampen my enthusiasm.
Lodging

This was a bit tricky. You can camp at the park but the weather was supposed to be cold so we looked elsewhere. The closest commercial lodging I found was in Turkey, Texas. There is an old historical hotel there and, at 13 miles away, it was well within daily driving distance.
A note about Hotel Turkey. It is old. Really, really old. The history contained within those creaky, badly insulated walls is long and storied. The employees are friendly and willing to help in any way they can. In addition, breakfast, REAL breakfast, is included in your room price. I'm talking bacon, eggs, sausage and toast cooked to order. None of that coffee, stale donuts and cold muffins many hotels proudly call breakfast. Nope, this was honest food.
The rooms feature squeaky floors, and paper thin walls that allow you to hear everything the other guests say, even several rooms away. Bring a fan to drown out this noise. Also, you may be woken up several times a night by the gentle swaying of your bed as the other guests move about. The floor doesn't just groan, creak and whine with every step taken it also seems to move the entire building.
Thankfully the bed was very comfortable.
FOOD
While there are several places to eat in both Turkey and Quitaque (Kitty Quay). Our favorite came to be a small BBQ shack in Turkey called JB's Bar-B-Q. Not only is the BBQ wonderful but the homemade sides are fantastic. If you are really lucky there might even be some cobbler available if the locals haven't eaten it all. I highly recommend you stop by and give this place a try.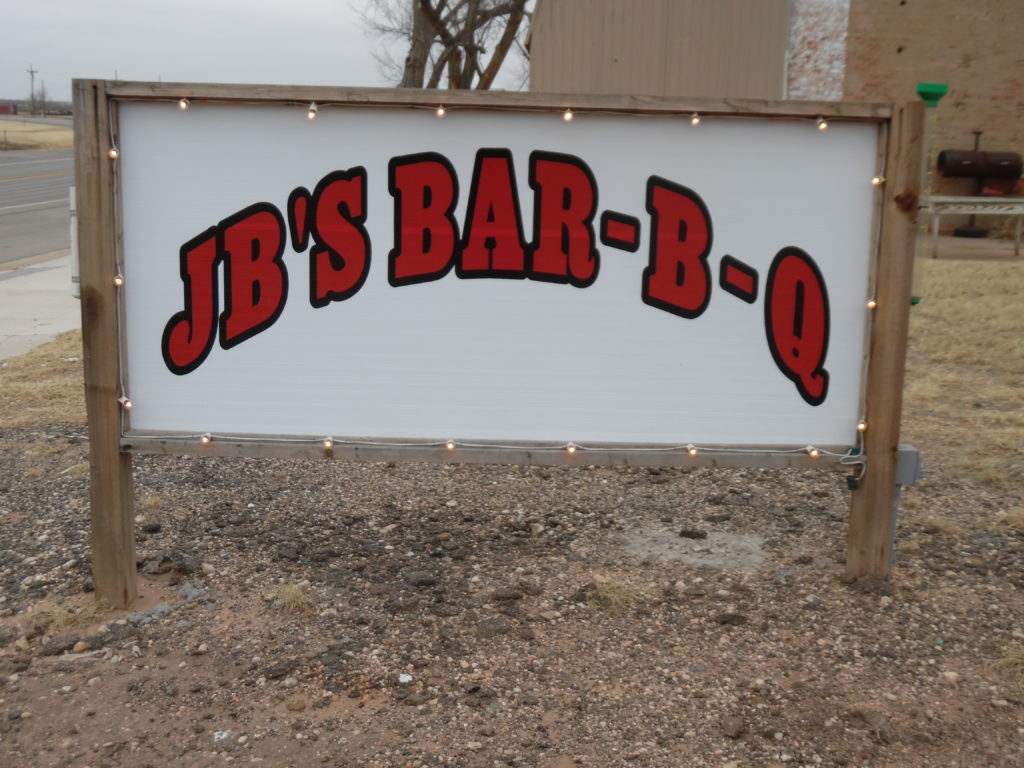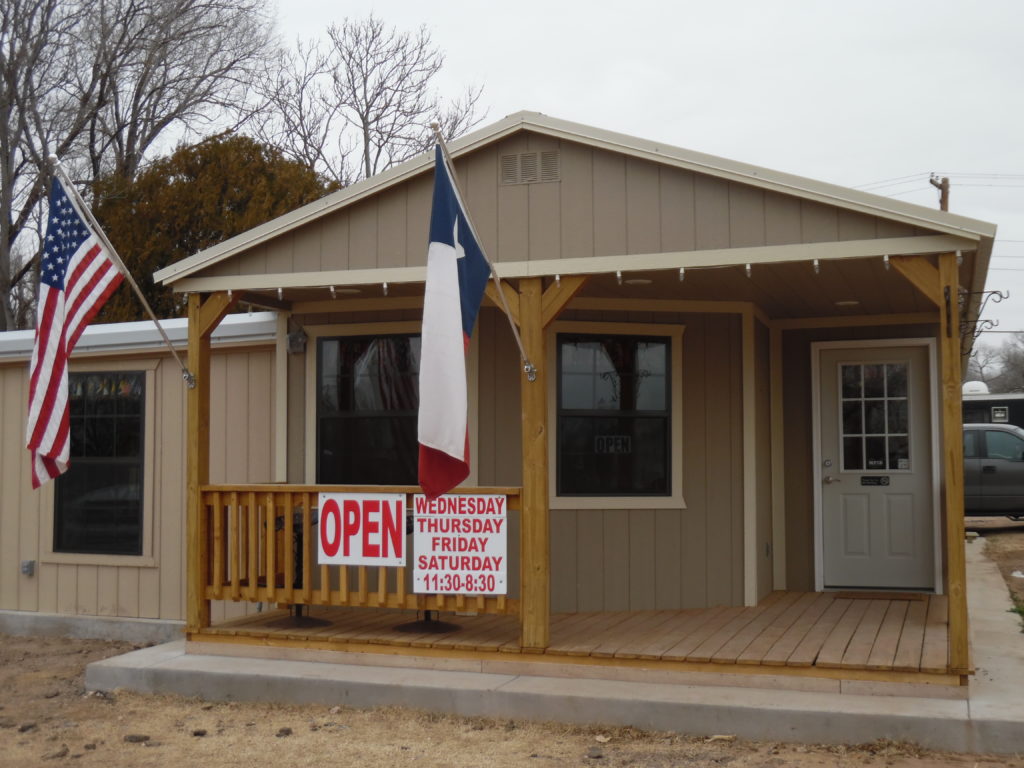 HUNT
After all the hunters had checked in and the paperwork was done we drew for spots. From what I gathered, Yellow, Pink and Green compartments are (usually) the most productive. Not to mention the most rugged. We lucked out and drew Green. Several hunters there had hunted Green in the past and gave us some tips on where to go. The Park staff also helped out with some sage advice. Basically, climb up high and sit and glass. A LOT!
Our compartment was indeed rugged. There were many deep canyons and high plateaus, "fingers". The aoudad could be anywhere. They might be on the lower meadows grazing or suction cupped to the side of a sheer cliff. Look everywhere, twice. Then come back and look everywhere again.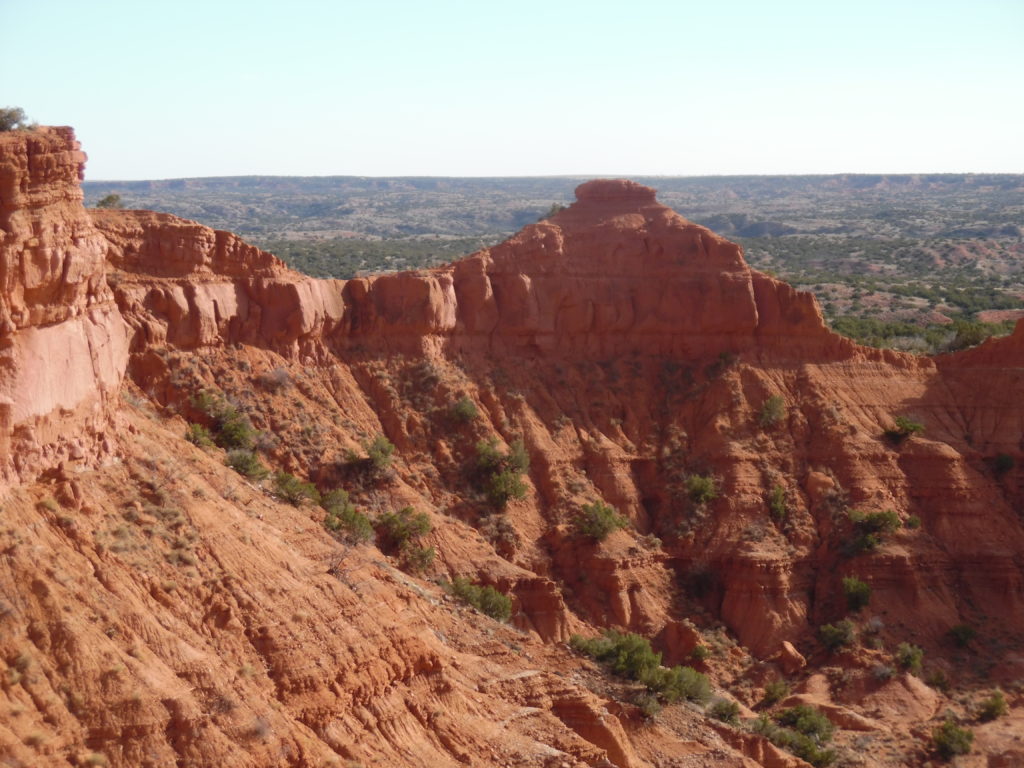 We stayed out all day, even eating lunch at a senic overlook.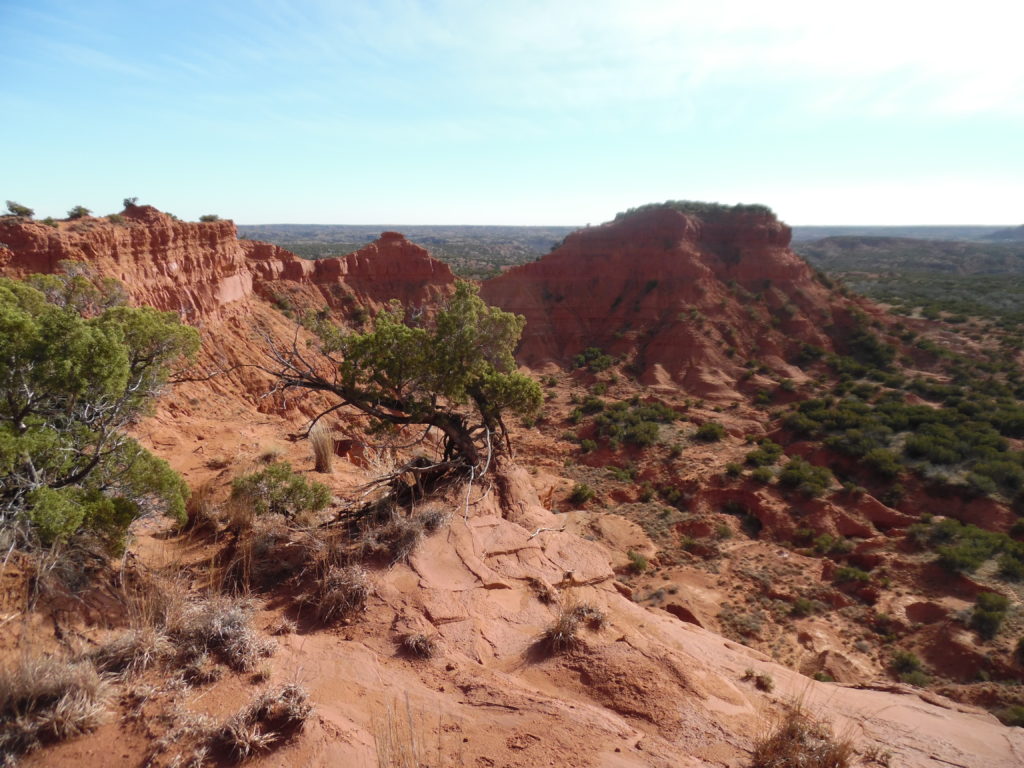 If you are reading this because you were also drawn for this hunt and Google directed you to this page ,then you have likely read other reports about Caprock Canyon. If, like me, you have read any at all you will notice the reoccurring theme is that this hunt is strenuous and not for the out of shape.
Seriously.
We had prepared for this hunt by biking miles each day leading up to the hunt. I know that isn't the same as climbing canyon walls but it helped more than sitting on the couch would have. The reality however, is that to increase your odds at an aoudad you need to cover miles and miles of country, much of it vertical, while carrying a heavy pack with lots of water. This land will suck the moisture right out of you.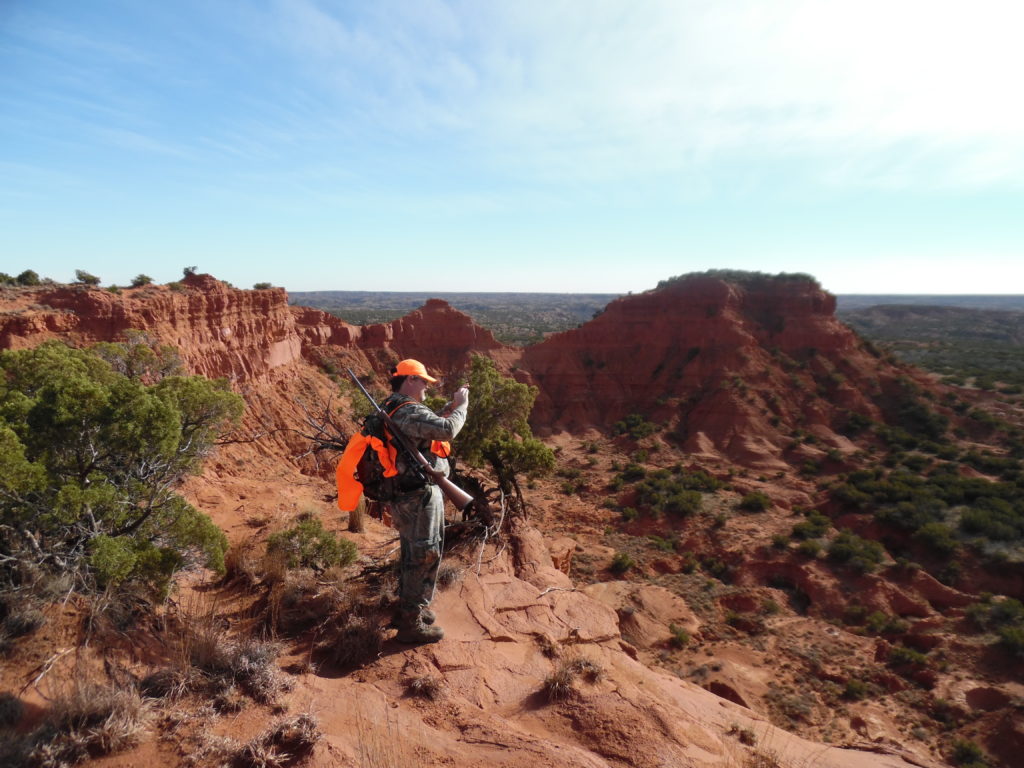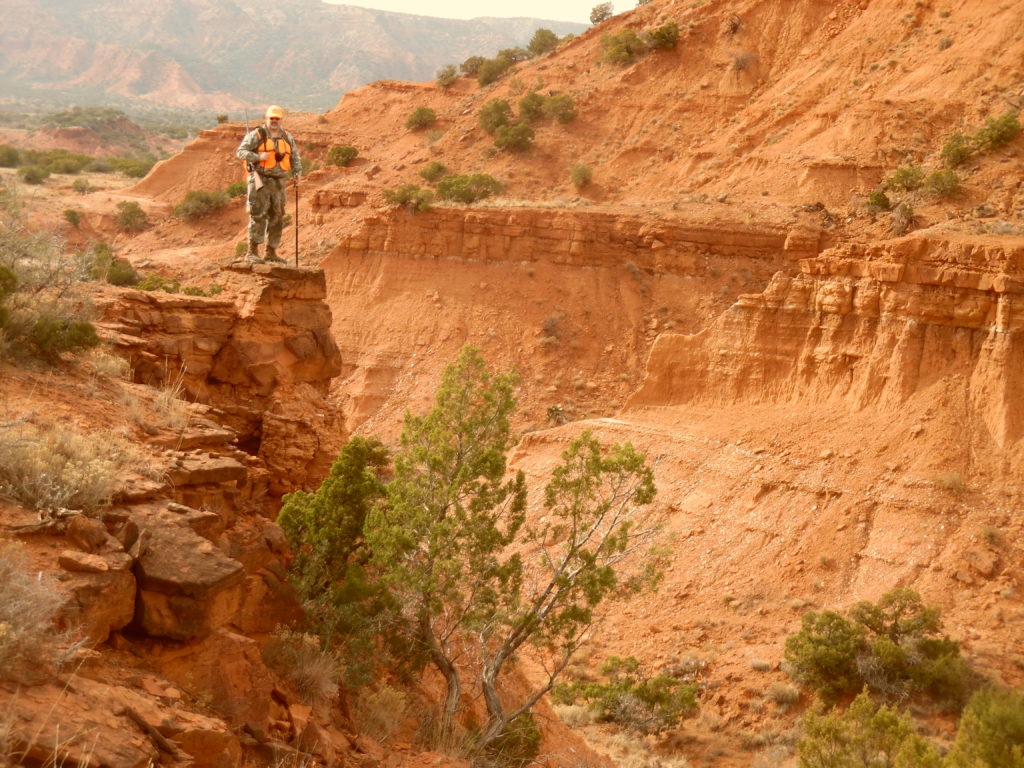 And speaking of the land. It is absolutely breathtaking. The iron rich sandstone and gypsum cliffs are a wonder to behold.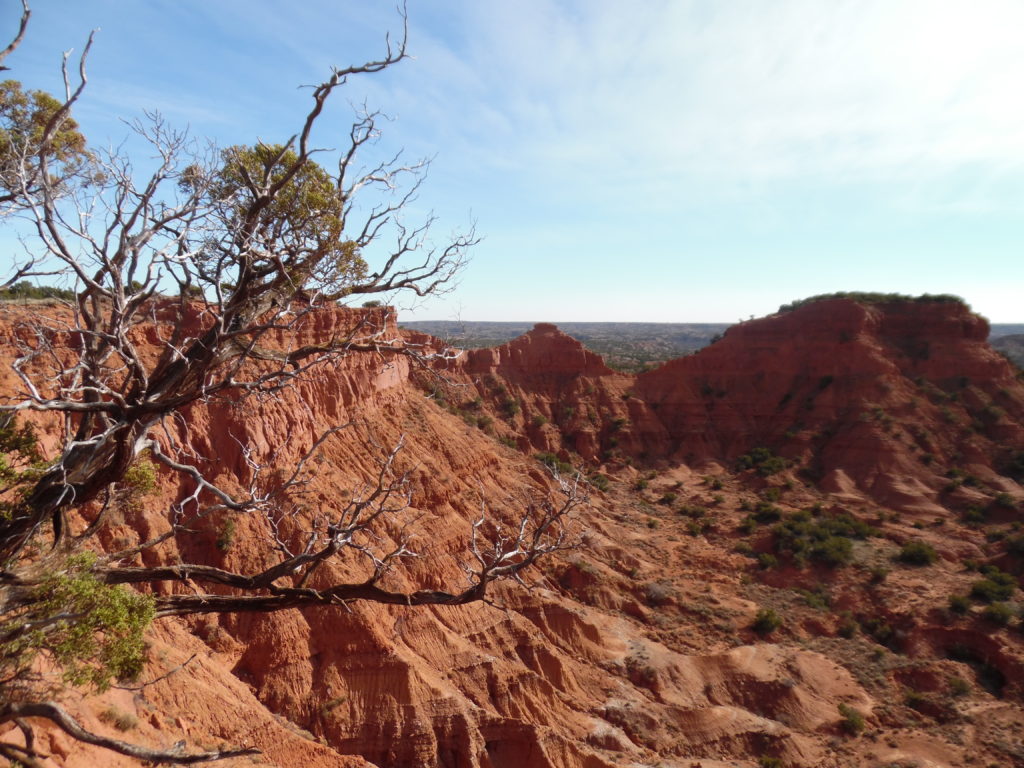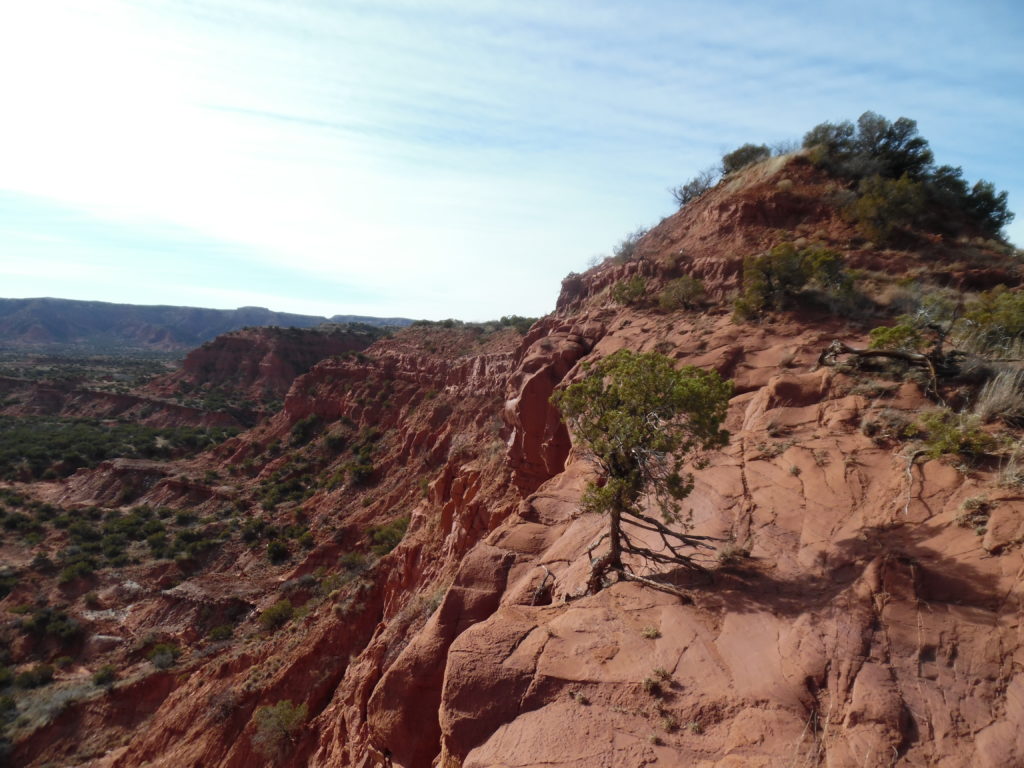 As the first day of our hunt came to a close we still hadn't seen any aoudad. We may have seen a mule deer doe and we did come across a small heard of bison. That was a surprise. We knew they were there but were not prepared at how quietly they can move. We thought we were sneaking up on a heard of aoudad only to turn the corner and find bison instead.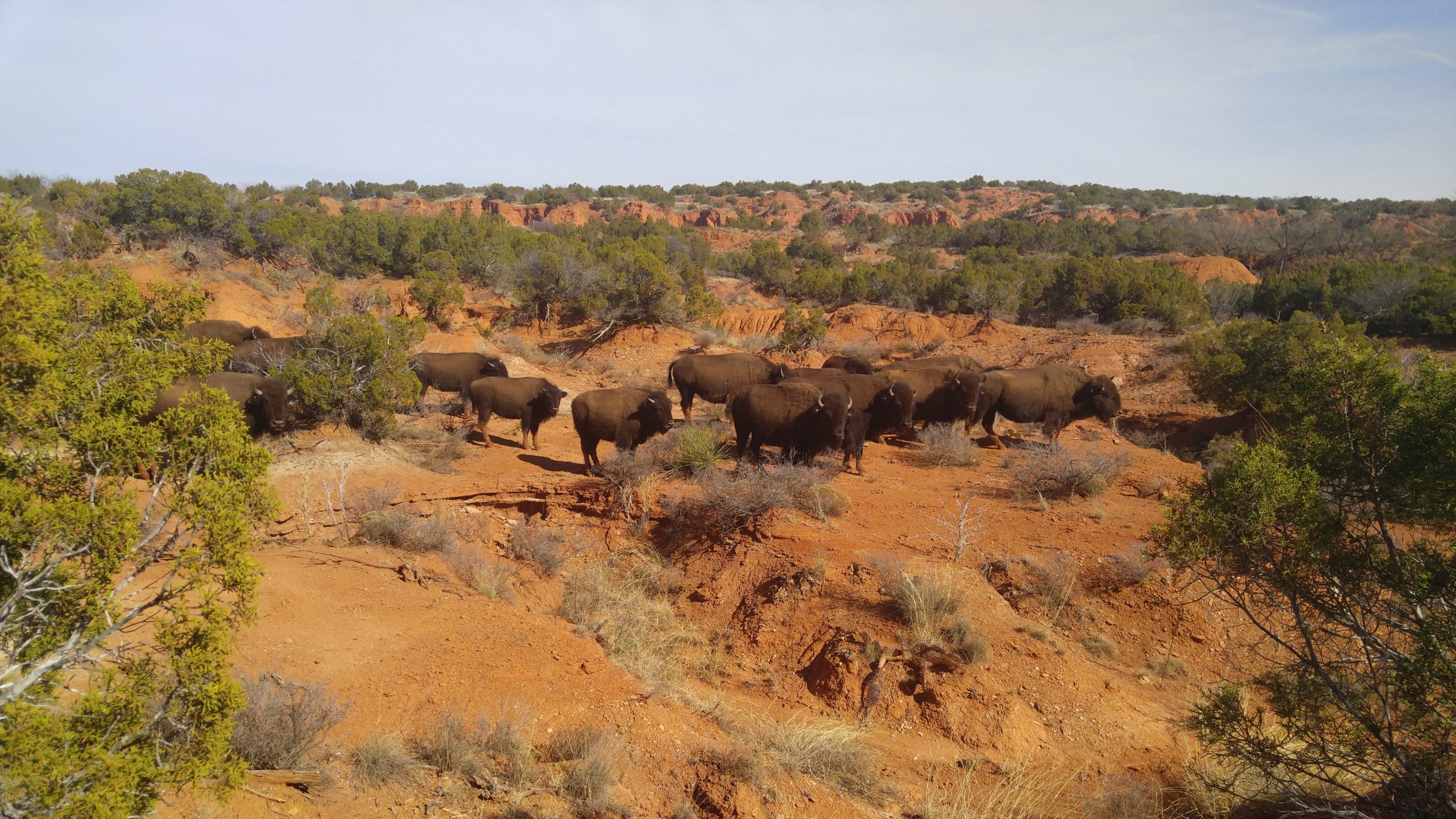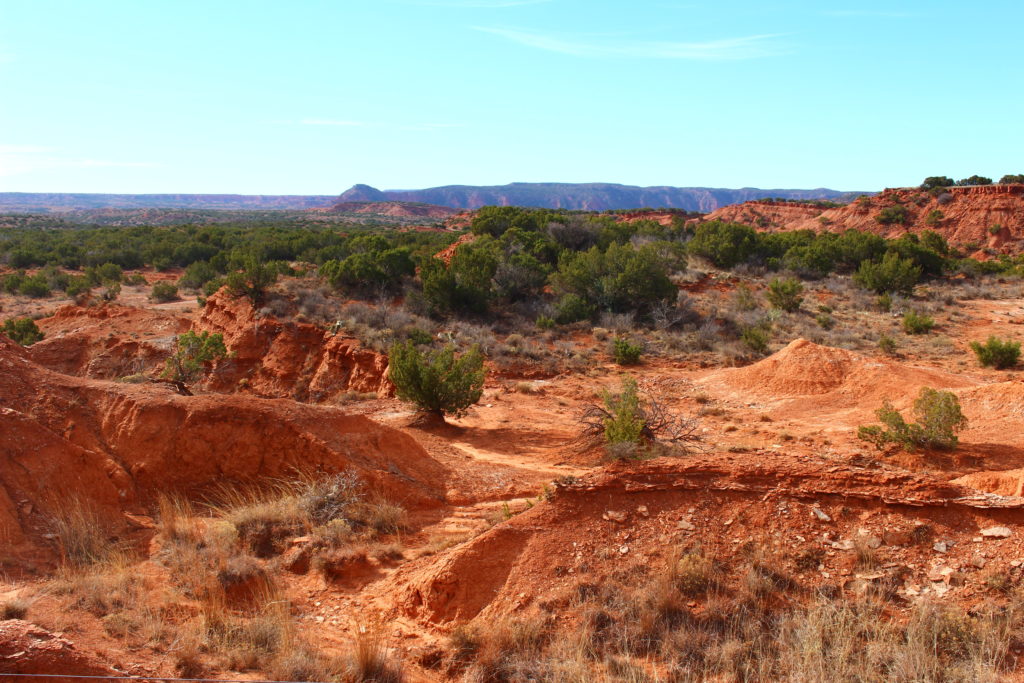 We only heard one shot from the other compartments so we didn't think anyone else was seeing much either. Later we would learn that shot was at a decent ram.
The sunset was amazing.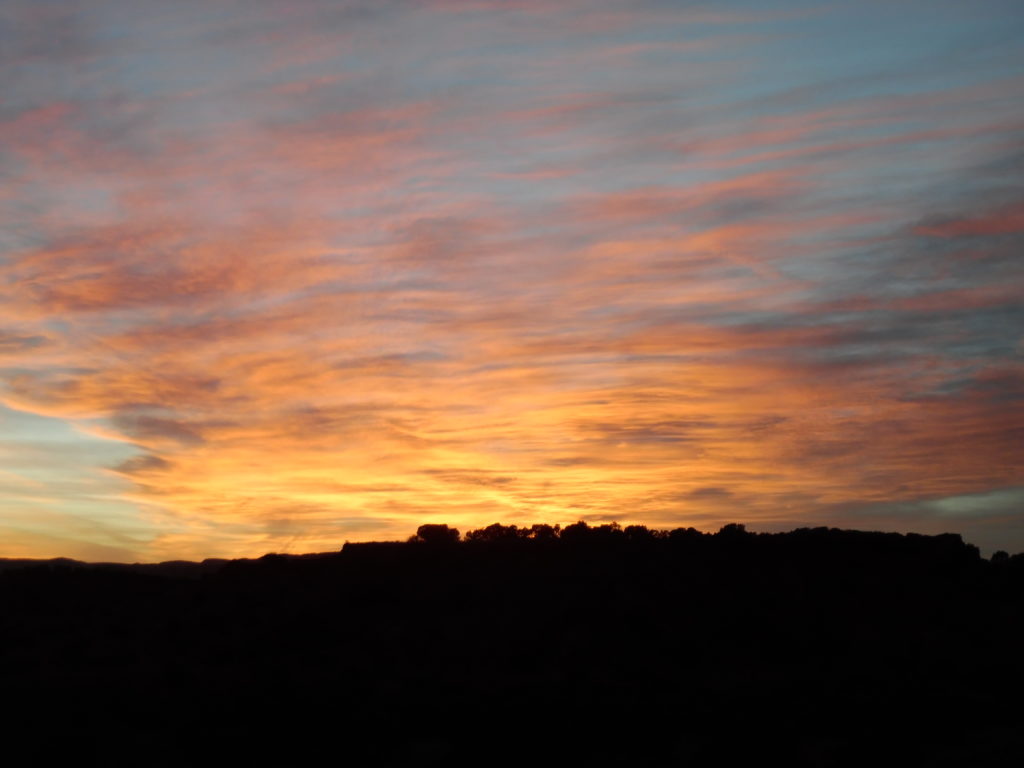 The next day held more hiking, more climbing and more disappointment. We hunted hard, stayed out the entire day and glassed over miles of country. Still we hadn't seen any aoudad. By the end of the second day we were tired, sore and very discouraged. Only one group of hunters had even seen an aoudad. In case you are wondering it was the Yellow compartment. In fact we heard the shots and watched their group from over a mile away. We only saw them shooting and never saw what they were shooting at but later heard they took four aoudad.
Two other groups of hunters approached us and asked if they could hunt the parts of our compartment we didn't cover. They hadn't seen anything in theirs and wanted to move. We let them cover a few canyons we hadn't. Heck, maybe they would push something toward us.
They didn't.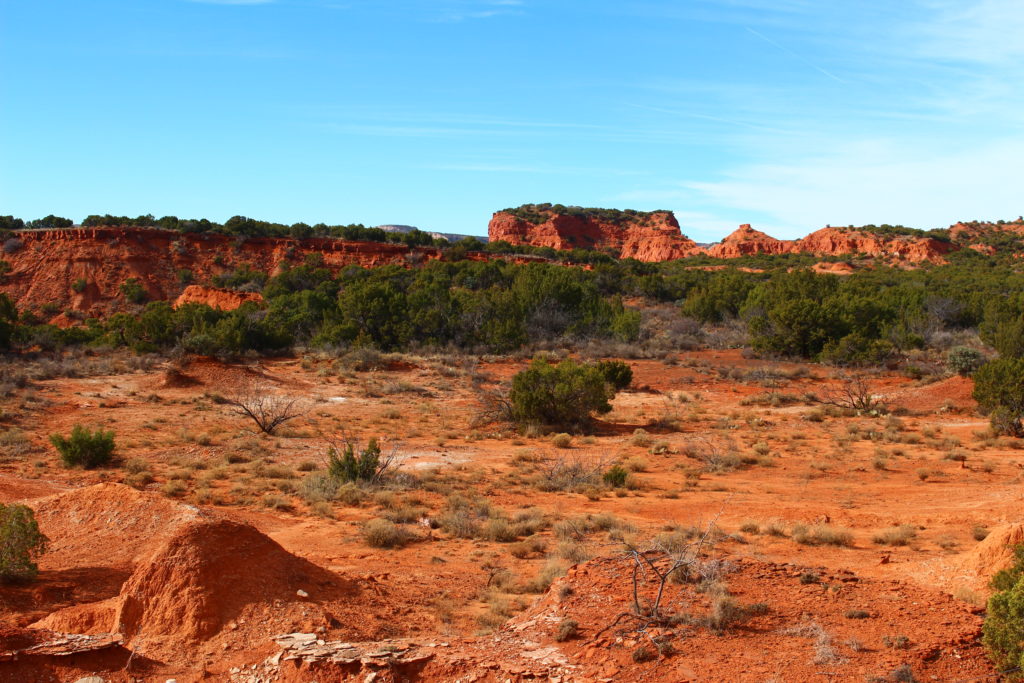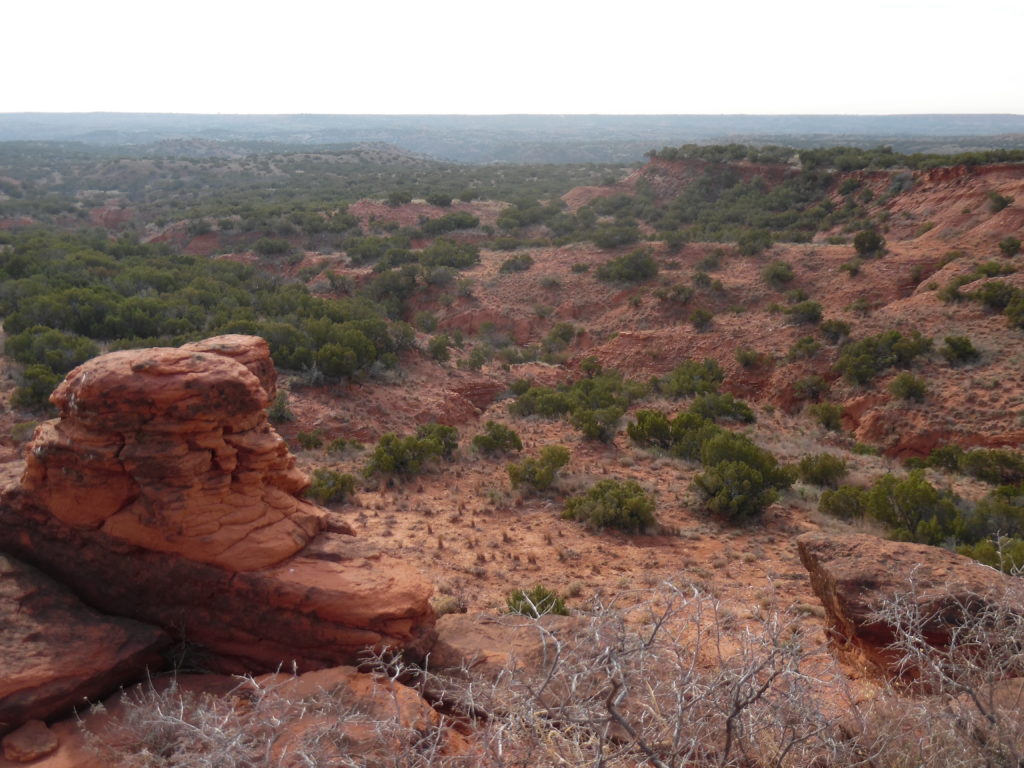 The hunt ended with only the yellow compartment seeing any aoudad and they took five. Some pigs were taken from the red compartment but that was all we heard about.
While I am disappointed that we din't even see an aoudad I did enjoy my hunt. Both my husband and I are avid rock-hounds and thoroughly enjoyed the geology this hunt offered. Note: you are not allowed to take anything from the park. So all rocks were seen and enjoyed but left in place.
For more stories of our Texas Public Hunt Adventures go HERE.

107
0
0
cookie-check
Caprock Canyon Aoudad 2016